By SHAUNA MILLER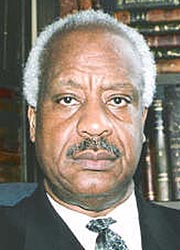 Delegate Emmett C. Burns
, a Democrat from Baltimore, introduced a bill in the Maryland legislature on Thursday that would prevent the state from recognizing same-sex marriages performed elsewhere in the nation and world. (Photo: www.msa.md.gov)
ANNAPOLIS (Jan. 16, 2010) - A Baltimore County delegate introduced legislation Thursday that would ban recognition of same-sex marriages performed in other states and countries.
Maryland Delegate Emmett Burns, D-Baltimore County, introduced
House Bill 90
as Maryland Attorney General Douglas Gansler prepares to issue his opinion on whether the state must recognize same-sex marriages from out of state.
The bill also comes as neighboring Washington gears up to begin performing same-sex marriages beginning in March.
Maryland law has defined marriage as a union between a man and a woman since 1973. The state recognizes marriages performed in other jurisdictions according to the "full faith and credit" clause of the U.S. Constitution, but current marriage law does not address recognition of same-sex marriages.
The federal Defense of Marriage Act, enacted into law in 1996, allows states to decide whether to recognize same-sex marriages.
Five states currently allow same-sex marriage, and New York and Washington, D.C., recognize same-sex marriages performed in other states.
"The issue is knocking on our doors," Burns said. "People will be flying over here, wanting to force us to accept their marriage licenses."
"Our back door is open, and it needs to be closed."
Sen. Richard Madaleno, D-Montgomery, asked Gansler to issue an opinion on the matter last May. Gansler will interpret existing Maryland law on marriage recognition to arrive at his opinion. The opinion will also take into consideration legal precedent set nationwide, including that of the Proposition 8 trial currently being argued in California.
"There has been a lot of movement on this issue," said Raquel Guillory, spokeswoman for the attorney general. "That's why we've been very methodical in drafting this opinion."
Guillory could not give a timetable for the decision, but said it would be made this year. She said Burns' bill would have no bearing on Gansler's opinion unless it passed before the opinion was issued.
The bill hits close to home for Delegate Heather Mizeur, D-Montgomery, who married her partner in 2008 in a civil ceremony in California. (They had their formal marriage ceremony in 2005.) The marriage is still considered legal in that state, in the district and in six other states, but not in Maryland.
Maryland passed bills expanding domestic partnership rights for same-sex couples in 2008, but a bill expanding the definition of marriage died in committee.
A bill introduced last year that would have amended the state's constitution to ban same-sex marriage died in committee.
Mizeur said she did not expect Burns' bill to gain traction based on the outcome of related bills in previous sessions.
"I think we're in a place right now in the General Assembly where there are not quite enough votes to make new advancements like full marriage equality, but there is enough support for equality that bills that would take us backwards 30 years don't have the votes to pass either," Mizeur said.
Other delegates said they would not support the bill on legal grounds.
"Current law defines marriage as between a man and a woman," said Delegate Michael Smigiel, R-Cecil. "So why should I pass laws that supersede current law? When and if the attorney general rules that we're going to accept marriages that would violate Maryland law, then I'll look at changing that."
Burns, however, said his bill was an effort to ensure the state's current definition of marriage carried over into its marriage recognition laws in anticipation of Gansler's opinion.
Burns' bill also defines same-sex marriages as "against the public policy of the state," language that advocates called an "end run around the legal process."
"This is an attempt to step in and prevent the attorney general's analysis from being enforced," said Morgan Meneses-Sheets, executive director of the advocacy group Equality Maryland. "The bill would carve out another area of law where (Lesbian, Gay, Bisexual and Transgender) couples would be discriminated against."
Meneses-Sheets said Maryland law currently recognizes other out-of-state marriages that could not be legally performed in the state, including those in which partners do not meet Maryland's age guidelines.
Burns said he supported the expanded rights the legislature recently extended to same-sex domestic partners, including health insurance for partners of state employees.
"Anybody can love whoever they want to love, but that doesn't rise to status of marriage," said Burns. "There is a line we ought not to cross, and this is it."
Capital News Service contributed to this report.