By GRAHAM MOOMAW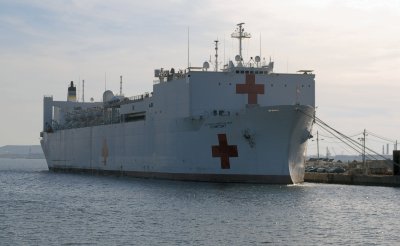 The Navy hospital ship Comfort is at home at the Port of Baltimore. (Photo: Graham Moomaw, Capital News Service)
BALTIMORE (Jan. 14, 2010) - The flurry of activity on Pier 11 in Baltimore began Thursday, as the USNS Comfort prepared for its latest mission—to aid in the relief effort following Tuesday's massive earthquake in Haiti.
The 894-foot-long ship, described as a "floating hospital," holds a trauma facility equipped to treat up to 1,000 patients at a time. Haitian patients are expected to be transported aboard by helicopter.
Inside, the ship holds many of the trappings of a landlocked hospital. Its lime-green halls are filled with gurneys and operating tables. It also carries X-ray machines, neonatal incubators and a CAT scan unit.
When not deployed, the ship is staffed by just 18 civil service mariners and 58 Navy medical personnel. At full operating status—which takes about five days to achieve—it can hold a crew of 1,280.
The Comfort will carry a crew of 900 when it ships out, made up mostly of medical personnel from the nearby National Naval Medical Center in Bethesda.
Lt. Cmdr. Thomas Olivero, the department head for the ship's main operating room, said he and his crew will have to stay focused on the mission to keep from being overwhelmed by the scope of the disaster.
Olivero said he expects to handle mostly trauma victims, many of them children, but the crew will also be dealing with people suffering from malnutrition and dehydration.
"We don't know what to expect," said Olivero. "We're going to plan for the worst."
Heather Pulliam, the Comfort's assistant lead petty officer for nursing services, said her husband, a Baltimore police officer, gave her some blunt advice on how to deal with the tragedy once she arrives.
"Pretty much, suck it up," said Pulliam.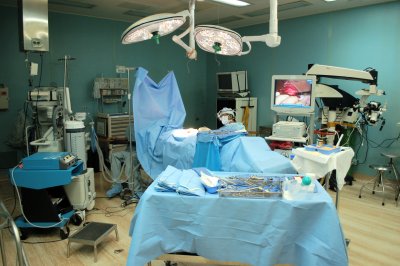 A dummy demonstrates that the Comfort boasts complete operating facilities on board. (Photo: Graham Moomaw, Capital News Service)
Olivero, of Frederick, said while it's frustrating to have to wait a few days before heading to Haiti to help, it's more important for the ship to be stocked with adequate food, water and medical supplies before departure. That means the next few days will be spent loading thousands of pallets.
This won't be the Comfort's first mission to Haiti. The ship was there in mid-2009 as part of a humanitarian deployment called "Continuing Promise." Posters and photos from the previous mission to Haiti line the corridors.
The Comfort's Haiti mission is open-ended. Crew members say they aren't sure how long the mission will last, but they are prepared to stay as long as it takes.
It's not clear when the ship will leave Baltimore, but it will likely happen no later than Monday. Deck Officer Joseph Kranz said it will take the ship about three and a half days to reach Haiti once it gets out of the Chesapeake Bay. Lt. Cmdr. Heidi Lenzini, a spokeswoman for the U.S. Southern Command, said the ship will arrive in Haiti by the end of next week.
Chris Walz, a Navy spokesman, said that the Comfort's deployment to Haiti represents the very best of the Navy's capabilities.
"The mission of this ship is the best mission in the Navy," said Walz: "Helping people."
Capital News Service contributed to this report.