By Andy Marquis, RacingForTheWin.com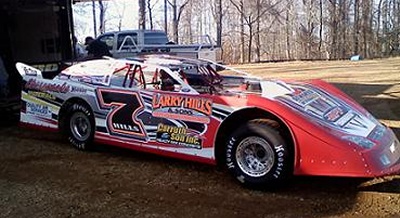 RacingForTheWin.com File Photo of Darryl Hill's Ford Fusion Super Late Model in the pit area at Potomac Speedway.
BUDDS CREEK, Md. (May 18, 2009)—Attrition took its toll Friday night at Potomac Speedway. The races were slowed several times due to some big pileups in the Super Late Model and Street Stock features. When the dust settled, it was a good night for Darryl Hills as he picked up his first win of the season.
Some controversy in the Stinger 50 led to a rule change at Potomac Speedway. Drivers were told they could not advance their position by driving below the tire barrier in the turns. Additionally, four big truck tires were placed in each turn to prevent the drivers from diving below the barrier. The rule went in to effect after Stinger 50 race winner Kyle Lear made a few passes under the tires and went on to win the race.
Former NASCAR Camping World Truck Series driver Rusty Alton praised Lear for his win in the Stinger 50. The Stinger 50's $5,000 Super Late Model purse attracted national talent. Alton said he was glad a local racer beat "these national drivers coming down with their big corporate sponsorships."
Stevie Long and Tommy Wagner brought the late model feature to the green flag but a massive pileup in turn 1 on lap 1 brought out the yellow flag. The pileup included Dave Adams, Paul Cursey, Chuck Cox, (9), (75). Everyone was, eventually, able to continue. Tommy Wagner challenged Stevie Long for the lead on the restart, but his challenge didn't last long.
The second caution of the race came out when Derrick Quade went for a spin in turn 3. A third caution came out for a 4 car pile-up including Paul Cursey, Glenn Buckler and two other cars. The fourth caution came out on lap 15 for Chuck Cox's spin in turn 1 which slowed up a couple of other cars. Everyone drove away and was able to continue. At this point, Kyle Lear had charged to the second position.
Lear, on the restart, jumped to the inside of Long and took the lead in turn 2 the following lap. He would hold on to the lead, unchallenged, for the remaining 9 laps to win the race.
Brian Maxey and Tony Quade brought the Modified feature to a clean start. James Marshall took second position on lap 6. Josh Harris and Dan Arnold challenged Maxey for second n the closing laps but Maxey held them off. James Marshall held them all off for a convincing win.
Darryl Hills and Dale Hollidge brought the Super Late Model feature to the green flag. It didn't take long for Jamie Lathroum to move in to second position. A melee involving Matt Quade, George Moreland and several others put an end to Kyle Lear's race on the first lap.
Dale Hollidge's spin on lap 4 brought out the second caution of the night. Hills still had the lead after using the momentum on the outside line to hold off points leader Jamie Lathroum. Hollidge spun again on lap 10, but he was able to continue. However, he spun again under caution and decided enough was enough and went to the pits for the night.
John "Booper" Bare passed Lathroum on the inside on lap 12 but Lathroum went to the outside on lap 13 and began making the pass on Feathers. In the middle of that pass, the caution came out for a 2 car wreck involving Deane Guy and Harold Dorsey. Both cars needed assistance getting re-fired but they were able to continue.
Jeff Pilkerton's single car spin brought out the caution on lap 19, interrupting a fantastic battle up front between Bare and Darryl Hills. On the restart, a massive wreck ensued after Jamie Lathroum lost control in the corner and looped around – several other cars piled in to the carnage. Roland Mann's car came to a rest ON TOP of Jamie Lathroum's car. Other drivers involved included: Deane Guy, Harold Dorsey Jr, Matt Quade, and Rick Hulson.
After the restart, they managed to complete the final 12 laps without incident and Darryl Hills held Bare off to capture his first win of the year in a photofinish. Matt Quade wrecked after the checkered flag waved in turn 2 and his car came to a rest.
"I can't thank my mom and dad enough." Hills stated. "We've gone through a couple of motors this season and without them I wouldn't be able to race." Former track champion Booper Bare gave Hills all he could handle over the final 18-laps. "I knew Booper was back there." Hills said. "He's so good down here, you never know what he's got up his sleeve and it feels pretty good to beat him. The way our luck has been lately I didn't think we'd ever be able to win again."
John Burch and Jimmy Suite were on the front row for the Hobby Stock feature. The first wreck came on the first lap when Bud Pickeral's spin bottlenecked the field. Sam Archer and Tony Archer were involved – Tony Archer's car stalled and they called it a night.
Jimmy Suite and John Latham challenged Burch for the lead in a fantastic three-wide battle, but Burch held them off. Latham got by Suite on lap 5 and went to work on Burch. Latham ended up getting the lead on lap 8. Rusty Alton, who lost control of his car earlier but held on (despite losing several spots), made his way back to third by lap 10. Alton passed Burch on lap 11.
Despite having a fast car, Alton could not catch Latham, who was able to put a remarkable distance – until the caution flew for Bud Pickeral's second spin of the race in the corner of turns 1 and 2. That set up a Green/Checkered finish which put Alton on Latham's rear bumper. Latham was able to drive away on the restart and held on for the win; Rusty Alton finished second and John Burch third.
Kyle Nelson and Mike Reynolds made up the front row for the Street Stock feature event, the final race of the night. On the first lap, 3rd place runner Ben Bowie spun in front of everybody – the only other car to spin in the bottleneck was Barry Williams Sr. who was able to continue.
Reynolds took the lead on lap 3, but Nelson got back around him. On lap 4, the second caution came out for Barry Williams Jr.'s spin off the front bumper of another car in turn 2 which bottlenecked the field and also collected Stephen Quade. Kevin Cooke took second from Reynolds on lap 5. Caution came out again on lap 14 when Barry Williams Sr. drove hard to the inside of Ben Oliver and ran out of track and in to the left-rear quarter panel of Oliver's car.
On the restart, Ben Bowie charged from 5th to 2nd. A wreck the next lap, involving Barry Williams Jr., and a couple other cars set up a Green/White/Checkered finish with Nelson leading Bowie. After the restart, Bowie dived in to turn 3 on the inside of Nelson before he got sideways and nearly wrecked the car. Bowie did some fantastic driving to hold on to the car but dropped to fifth. It was Kyle Nelson who held off everyone and got the win with Mike Reynolds 2nd.
RACE RESULTS
Super Late Models
1. Darryl Hills
2. Booper Bare
3. David Williams
4. Jeff Pilkerton
5. Roland Mann
6. Kyle Lear
7. Matt Quade
8. Ray Kable
9. Chris Cromer
10. Harold Dorsey
11. Deane Guy
12. Jamie Lathroum
13. Rick Hulson
14. Dale Hollidge
Late Models
1. Kyle Lear
2. Sommey Lacey
3. Steve Long
4. Ed Pope
5. Tommy Wagner
6. Dave Adams
7. Glenn Buckler
8. Eugene Snow
9. Roy Scaggs
10. Chuck Cox
11. Brandon Long
12. P.J. Hatcher
13. Mike Latham
14. Paul Cursey
15. Derick Quade
16. Bob Breach (DNS)
Street Stocks
1. Kyle Nelson
2. Mike Reynolds
3. Kevin Cooke
4. Kurt Zimmerman
5. Ben Bowie
6. Ricky Edmonds
7. Ben Oliver
8. Wendy Jesmer
9. Eric Johnson
10. Donnie Smith
11. Steven Quade
12. Dale Reamy
13. Scott Wilson
14. Barry Williams Sr
15. Barry Williams Jr
16. Country Prince
17. Jason Murphy
18. Billy Crouse
Hobbystocks
1. Rusty Alton
2. John Burch
3. Ronald Meador
4. Jimmy Suite
5. Hilton Pickeral
6. Mike Scaggs
7. Josh Dotson
8. Brandon Coates
9. Don Breach
10. Sam Archer
11. Will Nelson
12. Thomas Pickeral Jr
13. Ryan Reburn
14. Wayne Suite
DQ: John Latham DNS:Bobby Meador
Modifieds
1. James Marshall
2. Brian Maxey
3. Josh Harris
4. Dan Arnold
5. Tony Quade
6. Rich Marks
7. Brandon Galloway
8. Craig Ramich
9. Brian Dobie
10. Robby Kramer