Police Believe Suspect May Have Targeted Additional Women Using Online Web Sites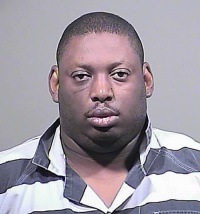 Kelvin Cousar, 36, of District Heights, was arrested May 1 for the alleged armed sexual assault of a woman in a Waldorf motel. Cousar responded to an ad in Craigslist, placed by the victim, for masseuse services, say police. (Arrest photo)
LA PLATA, Md. (May 7, 2009)—The Charles County Sheriff's Office on May 1 arrested Kelvin Cousar, 36, of District Heights, for allegedly sexually assaulting at gunpoint a woman whom he met using an online Web site. Detectives believe Cousar may be responsible for other assaults that may not have been reported and are urging victims to contact police if they have additional information.
Cousar has been charged with first-degree sex offense, third-degree sex offense, armed robbery, first -degree assault, reckless endangerment and concealing a deadly weapon. He was remanded to the Charles County Detention Center with no bond.
The sheriff's office did not identify the name of the Web site, however sources tell us it was Craigslist.
According to police, on April 12, Cousar answered an online ad the victim posted offering massage services. They agreed to meet at the Master Suites Hotel located on Old Washington Road in Waldorf. After the initial encounter inside the room, police say Cousar pulled a handgun and forced the victim to perform sexual acts, threatening to harm her if she did not cooperate. After the assault, Cousar left and the victim called police.
Craigslist has been the target of numerous complaints about erotic ads and ads for prostitution. The attorneys general of several states are currently pressuring Craigslist to address the adult-oriented content problem. The attorney general from South Carolina has gone as far as setting a deadline of May 15 for Craigslist to clean up their content. Otherwise, state officials say they will commence with investigations and criminal charges against company executives.
Craigslist recently received worldwide negative notoriety after Phillip Markoff, the suspected so-called 'Craigslist Killer' was charged with killing a masseuse he met on Craigslist. Police say Markoff shot the woman after she resisted his attempts to rob her inside a Boston hotel room.
Markhoff was also charged with trying to rob a stripper in Rhode Island 2 days after the murder.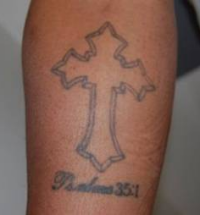 A photo of the tatoo on the arm of Kelvin Cousar, 36, of District Heights. Police released the photo to help other potential victims come forward. (police photo)
Charles County detectives believe that Cousar may have targeted other women in a similar manner. Detectives linked the Waldorf case to a similar assault that occurred in Prince George's County and developed additional information that led to the identification of Cousar.
Anyone with additional information about Kelvin Cousar in relation to the alleged crimes is asked to call Detective Austin of the Charles County Sheriff's Office, Special Victims Unit at (301) 609-6504.
Police say their investigation is continuing.