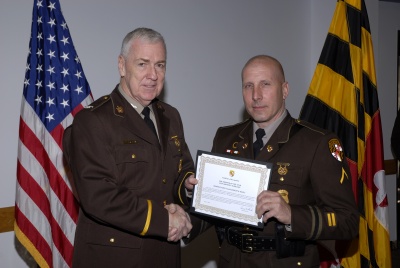 Superintendent Colonel Terrence B. Sheridan presents the Maryland State Police 2008 "Trooper of the Year" award to TFC Robert B. Rezza, of the Leonardtown Barracks. (Submitted photo)
TIMONIUM, Md. (April 30, 2009)—Maryland State Police Superintendent Colonel Terrence B. Sheridan recently presented the Maryland State Police 2008 "Trooper of the Year" award to Trooper First Class Robert B. Rezza, of the Leonardtown Barracks. Colonel Sheridan also presented the award for 2008 "Non-Commissioned Officer of the Year" to Sergeant James E. DeCourcey, of the Bel Air Barracks.
"I congratulate Trooper First Class Rezza and Sgt. DeCourcey for their outstanding accomplishments in 2008 that led to the distinguished honors each has received," Colonel Sheridan said. "These troopers epitomize the actions and attitudes of all the dedicated men and women of the Maryland State Police who serve and protect our citizens every day."
TFC Rezza, 52, joined the Maryland State Police on July 1, 2002, two days after retiring with the rank of lieutenant following a 23-year career with the Prince George's County Police Department. TFC Rezza, a former sergeant with the United States Marines, is assigned to road patrol duties within St. Mary's County. His dedication to duty is evidenced through both his traffic and criminal enforcement.
In 2008, TFC Rezza made 2,061 traffic stops, which were 700 more than the next closest trooper at the barracks. He issued 1,600 citations, 1,061 warnings and 100 safety equipment repair orders. Even with all those traffic stops, his supervisor reports he receives no complaints from citizens.
TFC Rezza made 20 arrests for drunk driving and 88 criminal arrests. He led the Leonardtown Barracks in warrant services in 2008, serving 51 arrest warrants. Understandably, TFC Rezza was acknowledged as the Leonardtown Barracks "Trooper of the Month" six times in 2008.
TFC Rezza's leadership is evident in many ways. He volunteered to be on the Leonardtown Barrack's tactical team. He serves as a Field Training Trooper and trained two new troopers in 2008. He regularly agrees to plan and implement special traffic enforcement efforts in St. Mary's County. He is also on the Maryland State Police Pistol Team.
In addition to belonging to several charity campaigns, TFC Rezza also participates in Christmas In April and Shop With A Cop, both programs that provide gifts and services to children and families in need. He also participates in Project Graduation for St. Mary's County, which gives high school graduates an opportunity to celebrate in a alcohol and drug free environment.
His supervisor, Sergeant Roger Redmond, said, "TFC Rezza is the type of employee and person that one may be lucky enough to encounter once in an entire career. Reliable, dedicated, professional, and relentless are but a few of the adjectives that describe one of the best troopers the Leonardtown Barracks, and quite possibly the Maryland State Police, has seen in some time."
Source: MSP HQ, Pikesville
RELATED INFORMATION:
Matt Zapotosky,
St. Mary's Trooper Wins State Honor
, April 30, 2009,
Washington Post