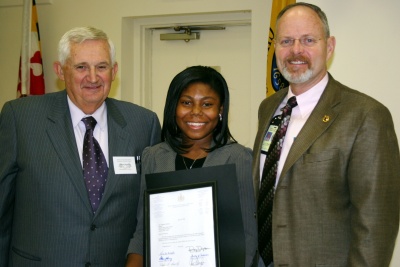 Superintendent of Schools James E. Richmond, Stephanie Johnson and Thomas Stone High School Principal L.C. Martin attended the annual Cooperative Education Employer-Employee Breakfast. Johnson, a senior at Stone, was named as the 2009 Cooperative Education Student of the Year. (Submitted photo)
LA PLATA, Md. (April 30, 2009)—Stephanie Johnson, a senior at Thomas Stone High School in Waldorf, was named as the Cooperative Education Student of the Year for 2009 at the annual employer/employee breakfast.
Johnson, an employee at White Plains Medical Center, was nominated for the award by her employer and selected following three levels of competition both at the school and county levels. Committees composed of staff members, community members and business representatives interviewed students.
"Stephanie Johnson is an all-around wonderful person and student," said Kimberly Black, Stone's Cooperative Education Coordinator. Black said working at the medical center was a positive experience for Johnson who plans to attend the nursing program at the College of Southern Maryland. Black said the cooperative education placement helped Johnson define her career path. Johnson schedules appointments, works with intake of patients, filing and more at the center.
Other award finalists were: Tessa Meredith of La Plata High School; Jonathan Kennedy of Henry E. Lackey High School; Carlisha Hill of Maurice J. McDonough High School; Jenee' Greenwood of North Point High School; and Ashley LaGon of Westlake High School.
Employers and student employees gathered at the Greater Waldorf Jaycees Community Center on April 29 for the annual Charles County Public Schools Cooperative Education Employer-Employee Breakfast.
The Cooperative Education Program provides a bridge from school to work and provides classroom instruction along with work experience and on-the-job training related to a student's career goals. Approximately 185 students throughout the county participated in the program this year. They were supported by more than 150 businesses that provided employment.
Started in 1971 at La Plata and Lackey high schools, cooperative education expanded to Thomas Stone in 1972, and to McDonough in 1979. Westlake started offering the program in 1998. North Point launched the program this year with its first senior class.
Source: Charles County public school system