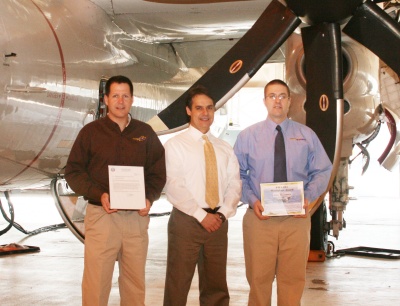 (L-R) Todd McGuire, Mike Conceicao, and Jesse McCormick, of La Plata-based Tech Wizards, stand in front of the Navy E-2C Hawkeye aircraft. McCormick and McGuire were recognized by NAVAIR for their work on the E-2C program. (Submitted photo)
PATUXENT RIVER, Md. (April 29, 2009)—NAVAIR's Hawkeye Greyhound program office (PMA-231) recently recognized two senior tactical software analysts from Tech Wizards for their support of the E-2C Hawkeye program. Tech Wizards is a system and software engineering firm based in La Plata.
Jesse McCormick was presented with the PMA-231 Warfighter Award for sustained performance while supporting the E-2C tactical engineering team.
Todd McGuire was awarded with a letter of appreciation for his personal commitment and performance for his efforts in supporting the E-2C Single Integrated Air Picture project.
McCormick and McGuire are stationed at Naval Air Station Patuxent River, Md.
The E-2C is the Navy's all-weather, carrier-based, tactical battle management airborne early warning, command and control aircraft. The E-2C is a twin engine, five crewmember, high-wing turboprop aircraft with a 24-foot diameter radar rotodome attached to the upper fuselage. An integral component of the Carrier Battle Group air wing, the E-2C uses computerized radar, Identification Friend or Foe and electronic surveillance sensors to provide early warning, threat analysis against potentially hostile air and surface targets.
"We are proud to be a contributor to the success of the E-2 program," said Mike Conceicao, executive vice-president of Tech Wizards, in a statement. "This is an example of our engineers' commitment to excellence in supporting the Navy."
Tech Wizards maintains locations in Dahlgren, Va., and NAS Patuxent River, Md.