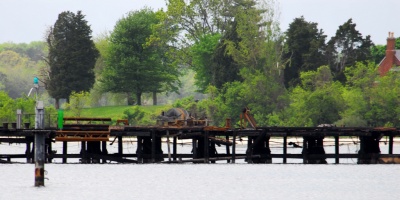 This photo taken Wednesday afternoon shows the extent of the damage on the Navy's pier at the Solomons Annex (Click for larger photo). Witnesses report the end of the pier was smoking Wednesday afternoon. (Photo: David Noss)
By Sean Rice, County Times, and David Noss
HOLLYWOOD, Md. (Feb. 29, 2009)—A fire Tuesday evening severely damaged an industrial pier at Navy Recreation Center, Solomon's Island, an annex of Naval Air Station Patuxent River.
Volunteer firefighters from Calvert and St. Mary's counties were called to the scene at approximately 6:30 p.m., reports Rick Thompson of the Pax NAS public affairs office.
The cause of the blaze remains under investigation by Navy fire investigators, and a cause is not yet known, Thompson said.
Only one vessel was docked at the pier at the time of the fire, the 200-foot USS Hugo NS-8201, a NAVAIR-owed ship that is operated by employees of Computer Sciences Corporation.
Thompson said the ship received minor damage from a fire onboard that was extinguished by the crew. It was towed from the scene.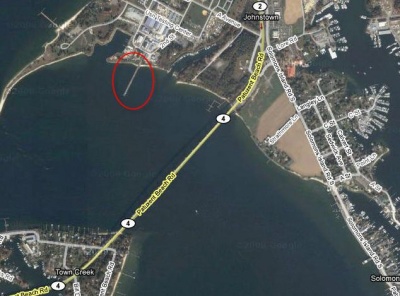 This satellite photo shows the relative location and size of the Navy pier in the Patuxent River (Circled in red). Map courtesy Google Maps.
Fire crews extinguished the flames, which were highly noticeable by traffic on the Thomas Johnson Bridge, by 9:15 p.m.
Two men who were fishing on the Calvert County pier near the Thomas Johnson Bridge Wednesday afternoon around 3:30 p.m. told somd.com that the end of the pier was smoking when they arrived approximately two hours earlier. The men reported a small red fireboat was on scene dousing the pier with water.
A call to the Solomons Volunteer Fire Department, which owns a small red fire boat, according to their website, did not enable us to confirm the report of the flare-up earlier in the day. A man who answered the phone, and only identified himself as Kevin, said he had no knowledge of the pier fire. When we asked him which Calvert County Fire Departments had a fire boat, he said he had no further comment and hung up.
Thompson was also unable to confirm the report.
A cost estimate of damages is not yet known, Thompson said.
More photos of the fire are available in this
news photo album
.