A photograph taken from the Thomas Johnson bridge Tuesday evening, from a vehicle headed north into Calvert County from St. Mary's County, shows the pier at the NAS's Solomons Annex completely engulfed in smoke and flames. A Navy ship can be seen tied up on the down-river side of the pier. (Photo: Wayne Devereux)
SOLOMONS, Md. (April 28, 2009)—The pier at the Naval Air Station Solomons Annex on the Patuxent River suffered a significant fire Tuesday evening. The blaze reportedly started around 6:30 p.m.
Photographs taken from the nearby Thomas Johnson bridge by a commuter show the entire pier engulfed in flames and smoke. The Navy dive ship can be seen tied to the down-river side of the pier.
Fire departments from Calvert and St. Mary's counties responded to the blaze.
More photos of the fire are available in this
news photo album
.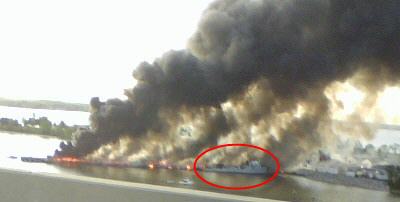 A second photo taken from the bridge around 7 p.m. shows the extent of the flames. The Navy dive ship is also clearly seen (encircled in red). (Photo: Nadine Hughes)