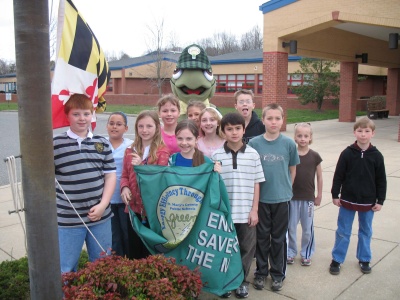 Students at Hollywood Elementary School pose with their newly won award for top energy savings among St. Mary's County public schools for Feb. 2009. (Submitted photo)
HOLLYWOOD, Md. (April 10, 2009)—Hollywood Elementary School is the fifth school to capture the Top Energy Saver Flag this school year in St. Mary's County. The school achieved top energy savings for the month of February 2009, with a 22 percent reduction in electric consumption compared to February 2008. This is a savings of 16,800 kilowatt-hours, which equates to $1,100.
The flag was presented to the school during morning announcements on Wednesday, April 1. The flag will be flown at the school for approximately one month. After that, it will be presented to the next school to achieve the best energy savings among public schools in the county.