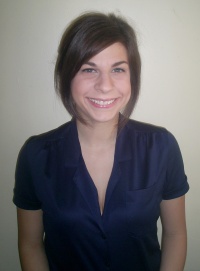 LA PLATA, Md. (April 3, 2009)—Kristina Gozzi, parent of a J.P. Ryon Elementary School first grader, was recently selected as Charles County's recipient of the Comcast Parent Involvement Matters award. She is also in the running to be selected as one of five semifinalists eligible for the state award.
"Our family is very fortunate to have our daughter attend J.P. Ryon Elementary School, where staff and parents work very hard as a team to achieve one common goal: to better our students' education. My nomination and this recognition is an honor. I gratefully accept the Comcast Parent Involvement Matters semifinalist award for Charles County on behalf of all the nominees, school staff, my fellow parent volunteers, and the students at J.P. Ryon Elementary School, who are my number one reason for continuing involvement and volunteering at the school," Gozzi said.
Comcast and the Maryland State Department of Education (MSDE) partnered to create the award to recognize Maryland parents who have made contributions to public education and to highlight the positive impact parents have on public schools. The award recognizes parents from local school systems across Maryland who are nominated in five areas of parental involvement: communication, volunteering, learning, decision making and community collaboration.
Gozzi was nominated for the award by Ryon Principal Virginia McGraw for assisting in the redesign of the school playground to make it accessible and safe for all students and the Ryon community.
"Gozzi is one of those parents who sets the rare example of being an advocate for all children. Her efforts are extraordinary and truly exemplify how her parental involvement matters. The impact of her efforts will be sustained for many years to come for all children and families in the J.P. Ryon school community," McGraw said in an award nomination letter.
Gozzi's daughter has a physical disability that limits her movement and uses a wheelchair on a daily basis. Gozzi recognized limitations of the school's playground equipment and sought to work with school system staff to redesign the area so it would be accessible for all students. She researched playground areas in the Charles County community and offered suggestions for equipment needs, design ideas and possible safety issues.
McGraw said the playground redesign took about a year to complete. Plans began in September 2007 and the redesign was completed this past January. Throughout the process, McGraw said Gozzi remained focused on her goal and was determined to help make sure all students, as well as the Ryon community, benefited from the school's play area.
"When roadblocks or obstacles impeded progress, Gozzi found alternative solutions, keeping in mind that in the end, all the students at Ryon would benefit from her efforts," McGraw said.
Gozzi was also recommended for the award by her daughter's first-grade teacher, John Brooks; her daughter's kindergarten teacher, Maria Farnham; and Nathan Lebedeker, a physical therapist with Charles County Public Schools.
Brooks said Gozzi not only helped facilitate changes to the school playground, but is a constant presence in the school community. She volunteers in the classroom, organizes parties and crafts for students, serves as a Girl Scout coleader and coaches a Destination Imagination team.
"Parents like Ms. Gozzi inspire me, as an educator, to strive to look for ways to make J.P. Ryon the best school it can be," Brooks wrote in an award nomination letter.
Gozzi will be recognized at a special ceremony May 8 in Annapolis, where the five finalists and the state award winner will be announced. The statewide winner and five finalists will be awarded a cash prize to further their efforts to improve the public schools they represent.
Source: Charles County public school system