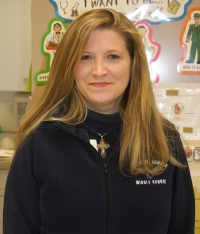 LA PLATA, Md. (April 3, 2009)—Samantha Shelton has created an extraordinary climate for students in the Life Skills program at Milton M. Somers Middle School in La Plata. She praises each student for their hard work and often gives them a "high-five" for correctly answering questions. The compassion she has for teaching special needs students is evident by her interactions with each child. She focuses on the talents and capabilities of each of her students and tailors lessons to address their individual needs.
Shelton's bond with her class is so strong that most would not know this is her second year of teaching Life Skills, a transition she made last school year after teaching English for more than 10 years. She is most noted for the smiles she brings to her students' faces and her passion for teaching special needs students. It is these qualities, and her ability to help her students succeed, that earned Shelton the 2009 Washington Post Agnes Meyer Outstanding Teacher Award for Charles County.
Somers Principal Stephanie Wesolowski said Shelton is one of the most respected and admired teachers at the school. "Samantha is proud of her students and her school. She is present at every dance, concert, sports event and assembly to cheer on her students. She even sits with her students to share their lunch hour. These opportunities allow her to touch base with students on a personal level and encourages them to maintain high standards of achievement," Wesolowski said in a nomination letter.
Shelton said she was "shocked beyond belief" when she was told she was this year's award recipient. "I had no idea that I was even nominated for the award until after my coworkers submitted my nomination," she said. Shelton credits the Life Skills team she works with for making her transition into a special education classroom smooth. "The Life Skills team is phenomenal and there is a huge team effort in my classroom. I could not do my job without them," she said.
Shelton said her coworkers at Somers openly welcomed her last year and strongly support the Life Skills program and her students. "Staff members are very open to allowing my students to try different content areas. From band to art and chorus, my students are able to try all kinds of activities and subject areas," she said.
Although Shelton loved teaching English, she really wanted to work with special needs students. Her desire to work in special education was ignited by a college professor in an introductory course at Towson. Shelton chose to teach English while she earned a graduate degree and became certified in special education.
Kimberly King, the instructional specialist at Somers, said anyone who visits Shelton's classroom can clearly see her dedication to teaching. "She embraces these children much like a mother would do with their own children; yet, she has very high expectations and is very firm with these demands," King wrote in a nomination letter. "I am just amazed how Shelton came from the high school environment into a classroom with such special children."
During Shelton's first year at Somers, she was tasked with administering the Alternative Maryland School Assessment (Alt. MSA) in mathematics and reading to her students. She worked with staff to adapt her teaching program so her class could learn the skills necessary to do well on the exams. Shelton said her students did well on the exam and 88 percent of her class scored in the advanced range. Charlotte Goldsmith, an instructional assistant in Shelton's classroom, said the class did well on the exams because of Shelton's "unique and professional knowledge and her ability to work with and understand how to address her students' needs."
In another award nomination letter, Somers art teacher Elizabeth Wanzer credits Shelton with positive changes in the Life Skills program. "I have had the opportunity to see a program that was sheltered and kept apart from the rest of the school slowly move towards exposure to and inclusion into all of the opportunities afforded to the rest of our school population. Shelton's sunny personality and winning ways have made this rapid shift in attitudes possible," Wanzer wrote.
Another aspect of the Life Skills program Shelton coordinates are the weekly field trips to local businesses for students to gain exposure to the work world. Shelton's class also coordinates the school's recycling program. It teaches her students responsibility for collecting recyclables from classrooms and recording collection data, which Shelton uses to create mathematics and science lessons.
In addition to community field trips and the recycling program, Shelton also coordinates an adaptive physical education and walking regiment to teach her students physical fitness skills. She also encourages her students to make connections in the community. Her students often create projects for senior citizens and personally deliver them to nursing homes and hospitals.
Her students are the reason Shelton said she wakes up each day with an eagerness to get to work. "Each student is different, with their own personality. I love the differences in each student. I often picture where my students will be in the future," she said.
Shelton obtained her master's degree in special education from Catholic University in 2007. She earned her bachelor's degree in 1992 from Towson University, where she double majored in English and secondary education, and studied special education. She is also certified through the Maryland State Department of Education to teach regular and special education.
She began her career in Charles County Public Schools in 1997 as an English teacher at Westlake High School. Shelton taught students in grades 9-12 and also taught honors courses. She transferred to the Life Skills program at Somers in 2007 after becoming certified in special education.
The goals of the Agnes Meyer Outstanding Teacher Award, which is sponsored by the Washington Post Company Educational Foundation, are to recognize excellence in teaching, to encourage creative and quality instruction and to contribute in a substantive way to the improvement of education. Agnes Meyer was the wife of Eugene Meyer, who purchased the Post in 1933 and was an advocate for public education. The Post will honor Shelton during a May 12 reception. She will be recognized by the Board of the Education at the June 9 meeting.
Source: Charles County public school system