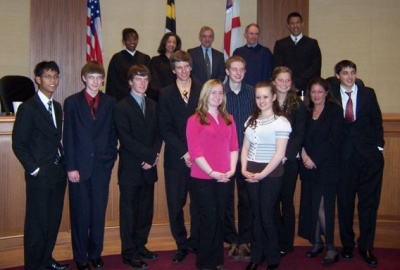 The St. Mary's Ryken Mock Trial Team. Front row L-R: Jose Ablen, John Houser, Daniel Burke, Ryan Fleming, Kristina Mooney, Josh Wagner, Tara Hamilton, Alexa Woods, teacher/coach, Leeanne Carr, Ryan Kelley. Back row L-R: The Honorable Crystal D. Mittelstaedt, The Honorable Tiffany C. Hanna-Anderson, Attorney/Coach, Samuel C. P. Baldwin, Jr., Esq., The Honorable James P. Salmon, The Honorable E. Gregory Wells. (Submitted photo)
LEONARDTOWN, Md. (March 30, 2009)—The St. Mary's Ryken Mock Trial Team won the finals of the Seventh Judicial Circuit Regional High School Mock Trial Competition held at the Circuit Court in Upper Marlboro last Thursday. St. Mary's Ryken emerged from a field of 33 public and private schools located in St. Mary's, Calvert, Charles, and Prince Georges Counties in order to reach the finals of this competition.
St. Mary's Ryken Mock Trial Team is undefeated this year and has a two year regional competition record of 15 wins against a single loss.
In the championship round, St. Mary's Ryken competed against Bowie High School. At the conclusion of approximately two hours of testimony, examination, cross examination, and argument, the four trial Judges awarded St. Mary's Ryken the win.
St. Mary's Ryken now advances to the state finals for the second consecutive year to compete against the seven other regional finalists.
This is the 26th year for Mock Trial - over 38,000 students have participated in this competition since its inception. The purpose of Mock Trial is to provide students with opportunities to learn -through case preparation with the attorney advisor, teacher coach and teammates, the competition with other schools, and various interpretations and perspectives of our law and legal system.