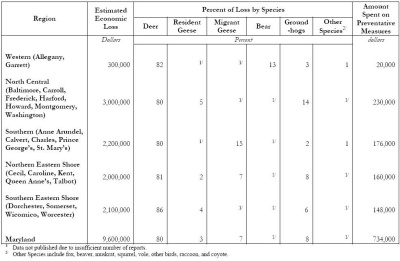 Breakdown of 2008 Wildlife Related Crop Losses. Click for larger image. (Source: USDA)
ANNAPOLIS (March 29,2009)—The Maryland Field Office of USDA's National Agricultural Statistics Service recently reported that Maryland farmers lost an estimated $9.6 million in potential crop production income due to wildlife damage in 2008. The survey results were collected and tabulated from the agency's fall acreage and production survey; with nearly 1,500 reports tabulated. Damage statewide was attributed to the following wildlife species with the corresponding estimated percent loss due to each species: deer, 80 percent; resident geese, 3 percent; migrant geese, 7 percent; and groundhogs, 8 percent.
Estimated economic loss was greatest in North Central Maryland, with crop losses reported at $3.0 million, 32 percent of the state's total estimated losses. Most of these losses were due to deer damage (80 percent) followed by groundhogs. Other regional losses in order of magnitude were as follows: Southern Maryland, $2.2 million, Southern Eastern Shore, $2.1 million; Northern Eastern Shore, $2.0 million; and Western Maryland, $0.3 million. Crop farmers across Maryland spent an estimated $0.7 million in 2008 on preventative measures such as fences, frightening devices, and repellents, with North Central growers spending the most, at $0.2 million.