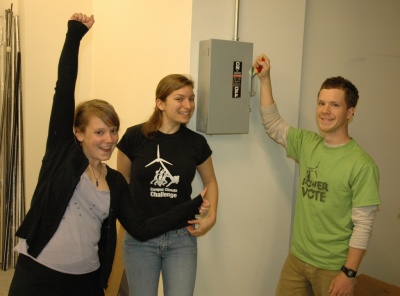 SMCM graduate Meredith Epstein '08, along with Student Environmental Action Coalition and Sustainability Committee members Anna Vaudin '09 and Guy Kilpatric '09, practice for the power shut-down at the college during this year's Earth Hour, a worldwide initiative to fight global warming. (Submitted photo)
ST. MARY'S CITY, Md. (March 24, 2009) - St. Mary's College of Maryland votes for Earth on Saturday, March 28. From 8:30-9:30 p.m., an expected 100 percent of the campus community will switch off their power in a symbolic vote against global warming. Part of a world-wide initiative called Earth Hour, citizens throughout 80 countries are participating in an act that will be presented at the 2009 Global Climate Change Conference in Copenhagen which will determine whether or not officials will take real action against global warming.
Last year, 50 million people world-wide switched off their power in support of turning around damage created by global warming. This year's goal is one billion supporters.
At St. Mary's College, the Student Environmental Action Coalition (SEAC) and the Sustainability Committee are teaming up to spread the word about Earth Hour and ensure that the campus goes 100 percent dark for one hour.
Earth Hour began in Sydney in 2007, when 2.2 million homes and businesses switched off their lights for one hour. In 2008 the message had grown into a global sustainability movement. Landmarks such as the Golden Gate Bridge in San Francisco, Rome's Colosseum, the Sydney Opera House and the Coca Cola billboard in Times Square all stood in darkness. Vote Earth has become a global call to action for every individual, every business, and every community to stand up and take control over the future of this planet. Over 74 countries and territories have pledged their support to Vote Earth during Earth Hour 2009, and this number is growing everyday. Dozens of celebrities are endorsing the hour of darkness, including rock band Linkin Park, pop artists Gavin DeGraw and Cold Play, singers Amy Grant, Alanis Morisette and Wynona Judd, actress Cate Blanchet, and Archbishop Desmond Tutu.
This year, SEAC sent 75 SMCM students to PowerShift '09 in Washington, D.C., the second national youth summit committed to solving the climate crisis. Students from SMCM accounted for the tenth largest college group present during the summit. PowerShift '09 aims to bring together more than ten thousand youth leaders from across the country in order to share ideas, learn new skills, make connections, and establish a national voice for our generation. Last year, over fifty St. Mary's students attended Powershift.
For more information on the movement, visit
http://www.earthhour.org/.