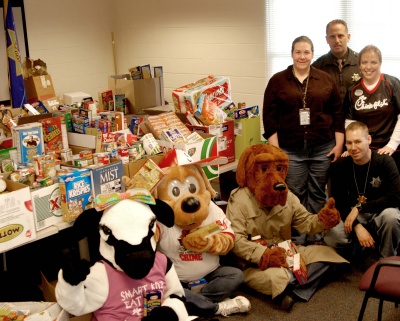 Lt. Billy Caywood — commander of the Community Services Division — Teen Court Coordinator Sarah Vaughan, Chick-fil-A Marketing Director Mindi Roberts and Community Policing Officer Jeremy Timko prepare to deliver food to local food pantries. Joining them are the Chick-fil-A Cow, played by Faith Hook, Scruff, played by Community Organizer Connie Gray, and McGruff the Crime Dog, played by Special Operations Secretary Jill Kotwas.
LA PLATA, Md. (March 24, 2009)—Charles County Public Schools students recently donated nearly 4,500 non-perishable food items to local shelters and food pantries as part of a food drive coordinated with the Charles County Sheriff's Office. The drive was co-sponsored by the Sheriff's Office Special Operations Division and Chick-fil-A.
The kick-off for the drive was held Feb. 27 at Piccowaxen Middle and Dr. Thomas L. Higdon Elementary schools. Students who donated items received a Chick-fil-A coupon for a free sandwich as an incentive for their participation.
Seven county schools participated, including Berry, Higdon and Walter J. Mitchell elementary schools, Mattawoman, Milton M. Somers and Piccowaxen middle schools and La Plata High School. Berry had the highest number of participants, with 1,630 items donated by 815 students. Piccowaxen followed in second, with 699 items donated by 496 students, followed by Higdon, with 367 items donated by 367 students.
Representatives from the Sheriff's Office delivered the items to LifeStyles, Inc., the Hughesville Women's Shelter, Catholic Charities and the Children's Aid Society.