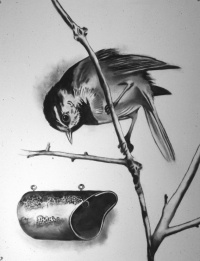 Contemporary artist Sue Johnson's "Bird and House." Johnson will be participating in a panel discussion at Randolph College's Maier Museum of Art in Lynchburg, Virginia, March 21 at 3 p.m.
ST. MARY'S CITY, Md. (March 12, 2009) - Contemporary artist and St. Mary's College of Maryland professor Sue Johnson will participate in the 18th Annual Helen Clark Berlind Symposium on Saturday, March 21, at 3 p.m. at Randolph College's Maier Museum of Art in Lynchburg, Virginia. This event is held in conjunction with the 98th Annual Exhibition of Contemporary Art, "Evolutionary Drift: Works by Sue Johnson and Pam Longobardi."
This event is free and open to the public. A reception will follow the event.
Johnson will participate in a panel discussion with artist Longobardi, providing presentations about her source material to provide context for the panel discussion afterward. The panel discussion will be moderated by student Emily Hanson '09 and Tiffany Robinette, former assistant to Johnson, and will also include writer Suzi Gablik and marine biologist Wayne Sentman.
Longobardi's work involves painting, photography, fabricated objects, and installations and addresses the psychological relationship between humans and the natural world. Sentman has worked for the National Marine Mammal Laboratory, the National Marine Fisheries Service, and the U.S. Fish and Wildlife Service. He has served as a naturalist and field biologist for the Oceanic Society since 1998.
With her groundbreaking book Has Modernism Failed? (1984), Gablik was one of the first to confront the social situation of contemporary art, and her book struck a chord with a wide audience disillusioned by some modernist ideals. Has Modernism Failed? became one of the most popular and influential works of contemporary art criticism.
Johnson has taught painting, drawing, printmaking and book arts at SMCM since 1993. She has served as the college's Steven Muller Distinguished Professor of Arts (2003-2007) and was awarded the Norton Dodge Award for Outstanding Creative and Scholarly Achievement in 2006. Johnson received her BFA in studio art from Syracuse University and her MFA in painting from Columbia University. She has had one-person exhibitions at university museums and colleges nationwide, and is the recipient of several national grants, fellowships and residencies.
To view more of Johnson's work, visit
http://www.suejohnson1.com/
.