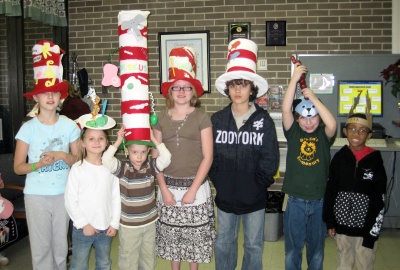 Winners of the Gale-Bailey Elementary School hat decorating contest. Students participated in a Dr. Seuss themed hat decorating contest to celebrate Read Across Charles County and Read Across America on Friday, February 27. (L-R) Joy Nichols, fourth grade; Taylor Murphy, second grade; Austin Robertson, kindergarten; Lauren Herbert, fifth grade; Kyle Batchelor, third grade; and Jalen Harris, first grade. (Submitted photo)
LA PLATA, Md. (March 11, 2009)—Charles County Public Schools (CCPS) celebrated Read Across Charles County Day on Friday, March 6. The annual event is a reading motivation and awareness program that invites every child in the community to celebrate literacy and reading, and the birthday of the famous children's book author Theodor Geisel, better known as Dr. Seuss.
"Read Across Charles County emphasizes the importance of reading to children. Through this annual event, students are able to discover the joys of reading and show excitement toward learning and using literacy skills," said Superintendent of Schools James E. Richmond.
Members of the community were invited into county elementary schools to read Dr. Seuss classics such as "The Cat in the Hat" and "Green Eggs and Ham" to students. A number of elementary schools, including J.P. Ryon, Gale-Bailey, Daniel of St. Thomas Jenifer and William A. Diggs elementary schools, celebrated the event with a door-decorating contest in which students and staff decorated classroom doors with Dr. Seuss decorations.
Students in the Future Educators Association (FEA) from Maurice J. McDonough High and John Hanson Middle schools were invited to read to students at Gale-Bailey and Ryon. Walter J. Mitchell Elementary School also coordinated a mystery-reader event in which a student read from a Dr. Seuss book during the morning announcements for a week and students voted for the student they thought was the mystery reader.
Guest readers for the event included Charles County Board of Education Vice Chairman Roberta S. Wise, who read to students at Gale-Bailey Elementary School, and Board member Pamela Pedersen, who visited students at C. Paul Barnhart Elementary School.
Additionally, Deputy Superintendent of Schools Ronald G. Cunningham visited students at Walter J. Mitchell Elementary School and Patty Dorsey, an assistant in school administration and operations, visited classrooms at J.C. Parks Elementary School.
CCPS coordinates Read Across Charles County Day in conjunction with the National Education Association's Read Across America event, which began in 1997, to get children excited about reading. Visit
http://www.nea.org/readacross/
for additional information.