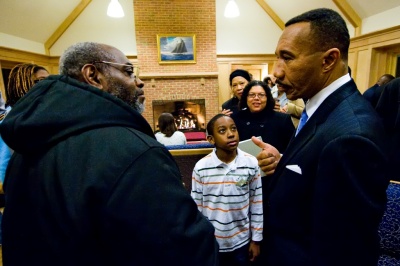 Nine-year-old Robert Gaskin, a third grader at Ridge Elementary School, looks on admiringly as former Md. Congressman and president of the NAACP Kweisi Mfume speaks to former St. Mary's County NAACP president Alonzo Gaskin, Robert's grandfather, during the annual Carter G. Woodson Lecture yesterday evening at St. Mary's College of Maryland. (Photo: Frank Marquart)
ST. MARY'S CITY, Md. (March 11, 2009)—Former Maryland Congressman and president of the NAACP Kweisi Mfume spoke to a packed house for his address to the St. Mary's College of Maryland (SMCM) campus and community during the annual Carter G. Woodson Lecture yesterday evening. Receiving several standing ovations during his speech, Mfume spoke about "America's greatest strength…a group and a collection of different people whose common destiny is more powerful than…diverse backgrounds or stations in life."
The address was held at the Auerbach Auditorium in St. Mary's Hall on the college campus. There were more than 250 students, faculty, and community members in attendance, including the former and current presidents of the local St. Mary's County NAACP, Alonzo Gaskin and Wayne Scriber.
"For more than 200 years, we have joined together different colors, creeds, and nationalities all under one flag," said Mfume in his address. "And while this assembled diversity has produced the most successful experience of democracy in the world's history, we have, by no means, achieved perfect harmony." Speaking to the many students in the crowd, he explained, "The degree that you will one day receive will in fact represent many things…It will be a reward for your academic excellence. It will be a reminder of a debt that you can never repay your parents. It will be both a source of relief and respect to your professors. But more than anything it will be, in fact, a license to learn."
Mfume also spoke on kindness and morality, reminding the audience that, "what Moses brought down from Mount Sinai was not the Ten Suggestions, but rather a blueprint for life. And so we are faced with the fact that tomorrow is today. And, as Dr. King once said, 'We are confronted with the fierce urgency of now.'"
At the conclusion of the address, SMCM president Jane Margaret O'Brien presented Mfume with a gift from the college-a hand crafted replica of the Arc and the Dove, the two ships that landed on the shores of St. Mary's County in 1634.
"Founded by the Calvert family," explained O'Brien, "St. Mary's City, celebrating its 375th anniversary this year, was the first colony in our country to instill the notion of toleration from which two of its earliest citizens - Margaret Brent - the first woman in the new world to seek the right to vote, and Mathias De Souza - the first person of African descent to serve in a legislative body - championed freedoms that your life's work has also embodied so magnificently."
The annual Carter G. Woodson Lecture honors the father of African- American History. Woodson was an author, editor, publisher, historian, and founder of the Journal of African American History, which he started in 1915. Past speakers in the Carter G. Woodson Lecture Series have included Tony Brown, Donna Brazile, Lonnie Bunch, and Kurt Schmoke.