Draft Horse to Help Usher in New Energy Era in Southern Maryland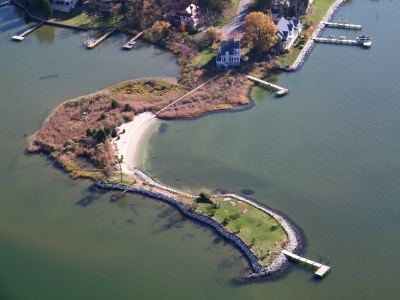 Aerial Photograph of Swan Point where So. Md.'s first residential power-generating windmill will rise on Wednesday at noon. (Photo: Rich Hudak)
SWAN POINT, Md., March 9 /PRNewswire/—The first residential wind turbine in Southern Maryland will rise where the Potomac River meets Cuckold Creek near Swan Point in Charles County about 60 miles southeast of the nation's capital.
A draft horse named "King" from a nearby farm will be hoisting the turbine into place. "It's a symbol from one era to another. From horsepower to wind power," says Sheryl Elliott who, along with her husband Ken Robinson, will be inaugurating the first residential wind turbine on their property in Southern Maryland on March 11, 2009 at 12 Noon, EDT.
"We are excited to have the opportunity to provide an alternative to traditional means of generating electricity," Robinson says adding, "We hope that by being the first, it will open the door for many in the region to do something similar."
The state of Maryland supports the project; Ross Tyler, Director of Clean Energy for Maryland says, "The Maryland Energy Administration is pleased that this wind energy turbine is being raised to open a new way of life in Charles County, and we hope this will provide an example to others throughout our State." Tyler goes on to say, "This event marks yet another step towards energy autonomy as we come together as One Maryland and embrace Governor O'Malley's vision of a Smart, Green and Growing State."
Dr. Carlos Fernandez, owner of Potomac Wind Energy in Dickerson, Md. who will be installing the Skystream 3.7 wind turbine says, "The location of the windmill on the Potomac is perhaps the most optimum location we have surveyed in the DC metro area."
Elliott and Robinson received support for the project from nearby residents as well as Maryland State Senator Thomas "Mac" Middleton. "Every kilowatt of energy conserved through energy efficiency or produced through renewable energy is one less kilowatt expended and less pollution to our environment," Middleton said in a statement.
Also attending the ceremony will be 25 members of the Green Club from the nearby Thomas L. Higdon Elementary School.
For more info, visit
http://www.potomacwindmill.com/
.