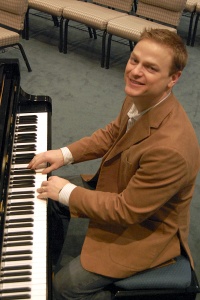 Accomplished pianist and local resident Jason Brown will perform along with the winner of the upcoming So. Md. Student Piano Competition. Brown was 8 when he started playing and by age 12 he was traveling throughout Texas and Oklahoma every weekend to compete. In high school he played quarterback for the football team. He would practice with his team on the field and then head home to practice solo on the keyboard. (Submitted photo)
LA PLATA, Md. (March 8, 2009)—When you hear that Jason Brown is an ex-quarterback for a small-town Texas high school football team, a recipient of a Van Cliburn music scholarship, a world-touring concert pianist, an accompanist to Richard Pryor's jazz-singing daughter, a movie score composer, and an actor; you figure this guy's head must be as big as a prize-winning pumpkin. But, when you meet Brown and learn that he is a southern Maryland farmer with a wife, three children, and a few llamas, you can't help but feel that he could be just a regular guy. And, that he is, a regular guy with a souped-up passion for music and enormous discipline.
Brown, 33, is clean-cut, but not stuffy. He's confident, but not arrogant. He's talkative, and he tells a great story. You feel that he is sharing the details of the twists, turns and tough choices he's made as a means to inspire others rather than to glorify himself.
And, he does intend to inspire others.
"I am where I am because I found something that I loved and made a career out of it," Brown said. "My dad loved music and insisted that his children learn to play piano. He wanted us stick with it for two years. For my brother, practice time was tough. He couldn't wait for it to be over. For me, time flew by. I loved to play and I practiced every day."
Brown was 8 when he started playing and by age 12 he was traveling throughout Texas and Oklahoma every weekend to compete. In high school he played quarterback for the football team. He would practice with his team on the field and then head home to practice solo on the keyboard.
"Friday night football in a small Texas town-everybody in town was there," Brown said. "The game would end and I would rush off to a piano competition."
The rushing paid off. Through the exposure of competition he gained a reputation and the notice of the judges, many of whom were college professors. He won a scholarship to Baylor University to study music through the Van Cliburn Scholarship and Presidential Scholarship.
"Competitions provide great exposure for kids; whether they win or lose it can help them develop stage presence," Brown said.
That is why Brown is excited to support the first Southern Maryland Piano Competition at the College of Southern Maryland's Prince Frederick Campus in April. Organizers of the event approached Brown about performing along with the winners of the competition and he jumped at the chance to help.
"This competition is a great way for kids to have a goal, to feel they can excel," said Brown. "I'm anxious to hear the talent level of the young people here."
"This competition was a next step from the college's Ward Virts concert series," said Joann Kushner, president of ArtLinks which is a co-sponsor of the event. "We have this beautiful Boesendorfer grand piano at the college and this event is a way to utilize the piano and showcase young performers." Kushner met and worked with Brown on several Calvert Artists Showcase events and thought he would be the perfect person to speak with the young performers as someone who really understands competitions.
After acquiring a concert-quality piano for a Southern Maryland concert series as part of the Ward Virts Piano Project, the competition was the natural outgrowth, according to Donna Wayson, chair of the Southern Maryland Piano Competition.
"It took us several years to find the right format and to expand the project as a way to reach out and encourage young people," said Wayson. "And we are so excited to bring a winner of a major competition to the event," Wayson said of Brown's involvement. "His insight and one-on-one time with the students will be invaluable to show them they have a future in music if they choose it."
Brown's choices have led him on a path that he never could have imagined for himself, he said. "I never dreamed this life for myself-that I would travel around the world on someone else's dime playing piano. I just practiced and found I had some talent and one thing seems to have led to another."
What led Brown to southern Maryland was his wife, then Shannon Strickland, a local girl he met at Baylor. While looking for a job, he accepted a gig playing "a beautiful grand piano" in Nordstrom department store in Columbia Mall.
"People would approach me and ask me to play at events, weddings and parties," he said. "One job led to another, but I stayed at Nordstrom's for two years."
One of those jobs was accompanying Rain Pryor, daughter of Richard Pryor, a jazz soloist and one-woman show.
Now an insider in the entertainment business, Brown has also connected with independent filmmakers to produce movie scores. His latest venture, writing the score for "Come Hell or High Water," included an on-camera supporting role as Webb Stockton. The film was shot in Maryland and Pennsylvania and is due out March 31.
If you don't catch Brown on screen or in concert, you just might find him closer to home, at Southern States loading a bale of hay to take back to his farm, or waiting for his breakfast order to come up at the Countryside Deli in Lothian-just like a regular guy.
Brown and the Southern Maryland Regional Piano Competition winners will perform for the public beginning at 2 p.m., Sunday, April 5, at CSM's Prince Frederick Campus, 115 J. W. Williams Road, Prince Frederick. The concert is free. For information, visit
www.csmd.edu/SoMdPianoCompetition/
.
CSM's Prince Frederick Campus is accessible to patrons with disabilities. Audio description for the visually impaired and sign language interpretation for the hearing impaired are available with a minimum two week advance notice. If you are interested in these services, please contact the Coordinator of ADA at 301-934-7614.