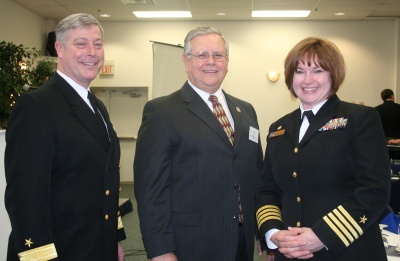 (L-R) Rear Admiral Patrick Lorge, Commandant, Naval District Washington, Charles County Commissioner President Wayne Cooper, and Captain Catie Hanft, Commanding Officer, Naval Support Activity South Potomac and Executive Committee Co-Chair of the South Potomac Community Relations Council, pose for a photo following the COMREL meeting on Feb. 25.
WALDORF, Md. (March 8, 2009)—Over 125 military, government officials, business and civic leaders met Feb. 25 in Waldorf to promote the newly formed South Potomac Civilian-Military Community Relations (COMREL) Council.
COMREL, organized over a year ago, was formulated as a vehicle to implement a consistent and efficient communications avenue between the military at the U.S. Navy's Dahlgren Facility (Virginia), the Naval Support Facility in Indian Head, and the civilian communities adjacent to these bases.
Charles County Commissioner President Wayne Cooper applauded the naval support command staff of both facilities for partnering in this important endeavor.
"By working together and discussing our concerns, we make this a community...a quality community, where our strength grows through understanding the issues of civilians and the naval personnel," said Cooper.
Commanding Officer, Captain Catie Hanft, U.S. Navy, said COMREL will address any and all issues from the communities including encroachment, noise, and any other problems that the neighborhoods may have regarding naval operations.
"We would also like to work with conservation groups and expand our communications network to include a toll-free number where questions are answered timely and efficiently," said Capt. Hanft.
COMREL membership is open to representatives from Charles County, the Town of Colonial Beach, the Town of Indian Head, the Town of Waldorf, King George County (Va.), state representatives, senators and members of the U.S. Congress.
Comments regarding COMREL are welcome via email at nsasp_pao_dlgr (at) navy.mil or call 1-866-359-5540.