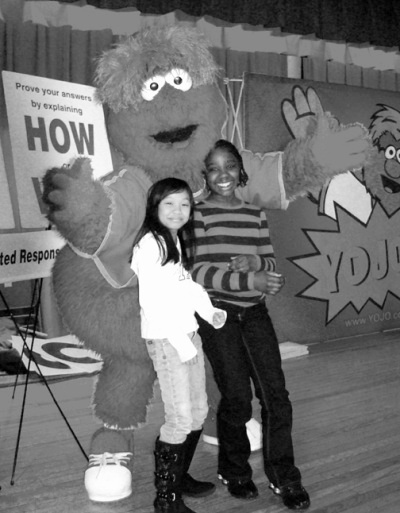 Dr. Gustavus Brown Elementary School fourth graders Hien Nguyen, left, and Destiny Bishop, right, pose with the cartoon character "YoJo," who visited the school last month to share test-taking tips with students preparing for the Maryland School Assessment (MSA) tests. (Submitted photo)
YOJO VISITS FOR MSA: Third- and fifth-grade students at Dr. Gustavus Brown Elementary School were recently treated to a visit from YoJo, a cartoon character that lives in the "wild." YoJo came to the school to provide test-taking tips to the students, who are preparing to take the annual Maryland School Assessments (MSA) in mathematics and science.
LESSONS OF THE GINGERBREAD MAN: Prekindergarten students at Eva Turner Elementary School studied the tale of the "Gingerbread Man" during the months of January and February. The lesson is designed to teach students about comparing and contrasting different fictional tales, geography of the United States and other countries. Each student created a gingerbread man and mailed it to an out-of-town relative so the class can track where their gingerbread men visited on a map. Turner student Aliyah Douglas's gingerbread man visited Alaska Gov. Sarah Palin, who sent a letter of thanks to the school that detailed the gingerbread man's travels. Another gingerbread man traveled to St. Thomas, in the U.S. Virgin Islands, to a relative of Turner student David Edmund. Edmunds's gingerbread man was photographed visiting a beach on the island.
PANCAKE BREAKFAST FUNDRAISER: John Hanson Middle School is hosting a pancake breakfast from 7:30 - 10:30 a.m. on Saturday, March 14, in the school cafeteria. The cost is $6 per person and the proceeds will benefit a school band trip and an end-of-year field trip for seventh-grade students. Chris Cakes of Maryland will serve all you can eat pancakes and sausages, and baked goods will also be available for purchase. Questions can be forwarded to Brenda Vitanovec at 301-645-4520.
$150 AWARD: North Point High School recently received a $150 award through the Chick-Fil-A and St. Charles Towne Center food court for the high school contest. Patrons were asked to donate their receipts to the Charles County high school of their choice. North Point Principal Kimberly Hill donated the award to the Southern Maryland Food Bank.
PUPPETRY ARTS VIRTUAL FIELD TRIP: First-grade students at C. Paul Barnhart Elementary School recently traveled to the Center for Puppetry Arts in Atlanta through a virtual field trip to learn about shadow puppets. Virtual field trips are connected through video conferencing equipment and allow students to learn through technology. The students watched a shadow puppet performance of West African folk tales, learned about Anansi the spider and West African food, and created their own spider shadow puppets.