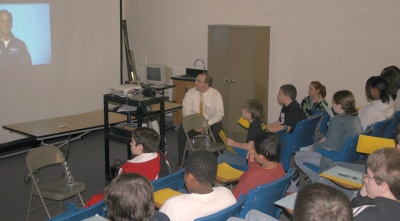 MESA students at John Hanson Middle School in Waldorf participate in a live teleconference space lesson on Wednesday, Feb. 18 at the school through NASA's Digital Learning Network. (Submitted photo)
LA PLATA, Md. (March 8, 2009)—The 38 John Hanson Middle School students who are members of the school's Mathematics, Engineering and Science Achievement (MESA) team were invited to participate in a live lesson about space on Wednesday, Feb. 18, through the National Aeronautics and Space Administration's (NASA) Digital Learning Network.
Hanson was one of two schools in the United States to participate in the live lesson, which included a student question and answer session with participants from NASA. The lesson was coordinated with the upcoming launch of the Space Shuttle Discovery's STS-119 mission, which is scheduled to launch March 11.
Students were able to see students from the other participating school and participants from NASA through teleconference equipment set up in a lecture hall. Selected students were chosen to ask NASA engineers and astronauts based at Johnson Space Center in Houston, TX, about the upcoming mission, what astronauts eat on the shuttles, what space suits are made of and what the loss of gravity feels like.
Hanson was selected to participate in the lesson because one of the astronauts selected for the upcoming mission, Richard Arnold, was a science teacher at the school during the 1990s. Dunnellon Middle School in Florida was the other school selected to participate because another astronaut selected for the mission, Joe Acaba, formerly taught mathematics and science there.