By LEONARD SPARKS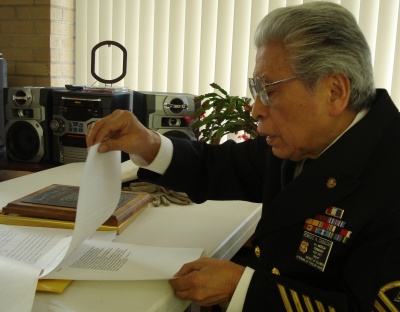 Remigio Cabacar, sitting in his Fort Washington barbershop, is one of an estimated 3,000 living Filipino Americans who fought with U.S. troops against the Japanese in World War II. (Photo: Leonard Sparks, CNS)
FORT WASHINGTON (March 6, 2009)—Remigio Cabacar needs his blazer and flag before he can begin talking about redemption.
The 81-year-old disappears into an office in the rear of his Fort Washington barbershop.
He returns to slip into a beribboned U.S. Navy jacket and to remove an American flag from its plastic cover before lowering himself into a folding chair.
"It's been a long wait," he said. "It's been a very long wait."
The wait has been 63 years, in fact. It has taken that long for Filipino soldiers who fought alongside U.S. troops in World War II to win a battle that began six months after the war officially ended.
Six decades of lobbying and protests ended on Feb. 17 when President Obama signed the economic recovery package. The $787 billion legislation contained language authorizing the release of $198 million in lump sum payments to Filipino veterans of World War II.
Many died during the long lobbying campaign. But about 3,000 veterans now living in the United States could receive one-time payments of $15,000. An estimated 12,000 veterans living in the Philippines, where the standard of living is lower, could receive $9,000.
Cabacar was an unemployed 17-year-old growing rice and potatoes in the Japanese-occupied Philippines when he was inducted into the U.S. Navy in 1945.
"No doubt in our mind that the first blood spilled in the battlefield probably was a Filipino," Cabacar said. "They didn't ask to become American soldiers, but they were made to do so."
While Cabacar volunteered, most of the Filipino soldiers were members of the Filipino military, which was ordered to join U.S. forces.
The payments represent a remedy to the Rescission Act of 1946, which restricted benefits for Filipino veterans to combat deaths and injuries when Congress approved it six months after the Japanese surrendered.
The legislation left many of the estimated 260,000 Filipinos who fought against the Japanese occupation of the Philippines ineligible for pensions, burial benefits and tuition and housing assistance.
"Can you just type in big letters, 'Yay?'" said Maryland Delegate Kriselda Valderrama, who is Filipino American.
Valderrama, D-Prince George's, introduced a resolution supporting the compensation during the General Assembly's 2007 session. Her father, former state Delegate David Valderrama, introduced a similar resolution in 1998 and 2002.
"They were promised this. They fought for our country," she said. "I'm glad that this has come to fruition."
Jon Melegrito, co-chairman of the Washington, D.C.-based National Alliance of Filipino Veterans Equity, joined the lobbying movement in the 1990s.
Melegrito's father fought under U.S. command as a guerrilla beginning in 1941 and survived the notorious Bataan Death March in 1942.
His father, who died in 2005, moved to the United States in the 1960s, living in Missouri and New York before settling in Biloxi, Miss.
The Methodist minister and high school teacher barely talked about his war experiences, said Melegrito, who lives in Kensington in Montgomery County.
"I guess it was too painful to recall," he said.
The Department of Veterans Affairs repeatedly denied his father's disability claim for lost hearing, Melegrito said.
"He was very adamant about me trying to get that bill passed," he said.
Not every Filipino veteran is satisfied, however.
Angelesio Tugado was one of many veterans and advocates pushing for a monthly pension instead of a lump sum payment. Tugado is also disappointed that those receiving payments must renounce all future claims.
"The moment you receive this benefit, you forgo all other benefits," said Tugado, a Washington, D.C., resident.
Tugado was a 24-year-old elementary school principal when he joined the service in October 1944. He directed counterintelligence and censorship operations, scanning radio and television broadcasts and outgoing letters for information that could be used by the Japanese.
"We had to read every letter going out of the Philippines," Tugado said.
Tugado earned a doctorate in economics after the war, and until 1998 taught at the National Defense College of the Philippines. He applied for American citizenship that same year.
Despite his disappointment over the benefits, Tugado said he still loves America.
"America is the most wonderful country," he said. "You can do anything."
Ben de Guzman, national coordinator for the NAFVE, said political reality led to the compromise between a lump sum and a monthly pension.
"The reality is this was a step back," he said of the payment. "But we saw that in terms of what was able to move and in terms of what we were able to get from our own champions, we felt it was in the best interest to get what we can for the vets."
Cabacar said he believes the payment is "better late than never."
He initially worked at Subic Bay, providing logistical support for patrol boats. When the war ended, the Navy transferred him to Treasure Island in San Francisco and then to a destroyer that plied the Far East for four years.
After 25 years in the Navy, Cabacar worked 20 years for the FBI, cooking for a succession of directors. When he retired from the FBI in 1990, he opened the barbershop.
On a wall in the shop hangs a photograph of Army Gen. Douglas MacArthur, flanked by then-Philippines President Manuel Quezon and several military officers, treading through ankle deep water during a landing at Leyte Beach in the Philippines.
Nearby is a photo of Cabacar's grandson in his Navy dress uniform. The graduate of Notre Dame University's ROTC program is now stationed in San Diego.
"I'm very proud," Cabacar said. "If I could do it all over again, I'd still want to."
Capital News Service contributed to this report.