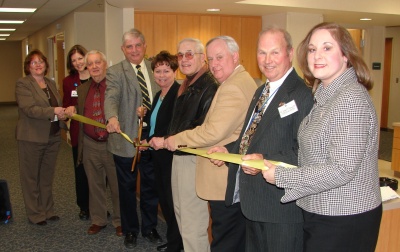 Ribbon cutting celebrating the opening of SMH's newest third-floor unit. Pictured from left to right, are Dana Smith-Ruggles, director of St. Mary's Hospital's Telemetry, Intensive Care Center and 3 Central units, Vice President for Nursing MaryLou Watson, Commissioner Kenneth Dement, Commissioner Thomas Mattingly, Chairwoman of the Board of Directors Linda Dudderar, Leonardtown Mayor J. Harry Norris III, Commissioner Daniel Raley, Francis Jack Russell, president of the St. Mary's County Board of Commissioners, and Christine R. Wray, St. Mary's Hospital president and CEO. (Submitted photo)
LEONARDTOWN, Md. (March 6, 2009)—St. Mary's Hospital unveiled its newest third-floor unit on Tuesday. This unit adds 15 new medical surgical rooms equipped with telemetry monitoring. It also includes a specialized room for bariatric patients with a patient lift built into the ceiling for patient and staff safety. The lift can hold up to 1,000 pounds and transports patients directly into the bathroom. Architectural touches help create a unique nursing station and satellite stations closer to the patient rooms. In addition, each room has its own window and bathroom with a shower.
"This new unit will help streamline the healing process for those who come through our doors," said MaryLou Watson, the hospital's vice president for nursing. "We are proud to know we are making a strong step in the right direction for St. Mary's Hospital to remain at the forefront of health care in Southern Maryland."
More than 50 people attended the ribbon cutting ceremony, including members of the St. Mary's County Board of County Commissioners, hospital administrators, physicians and employees, County Administrator John Savich and Leonardtown Mayor J. Harry Norris III. Guests toured the new unit and enjoyed light refreshments.
"It's a very bright, comfortable unit," said Dana Smith-Ruggles, a registered nurse and the director of the hospital's Telemetry, Intensive Care Center and the new unit, called 3 Central. "The unit is designed to be state-of-the-art, with paramount importance of patient safety, comfort and care."