By MEGAN MILLER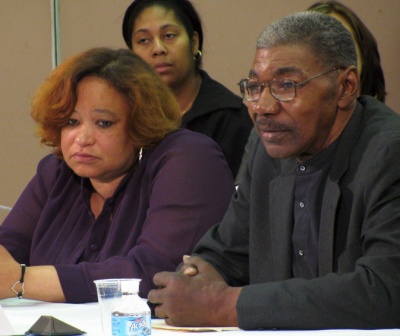 Distressed homeowners Tracy Robison and John Mitchell speak about their foreclosure experience. (Maryland Newsline photo by Hannah Kim)
UPPER MARLBORO (Feb. 27, 2009)—Synthia Wilson bought her Bowie home at the end of 2007 and thought she had done everything right.
"I considered myself to be buying my home at $100,000 below market value," Wilson said. "So I thought I was getting a good deal. Now I'm upside down a year later."
In other words, Wilson is paying on a house worth less than the money she owes on it.
Wilson was just one of the dozens of concerned residents gathered at Prince George's Community College Friday to tell the Troubled Asset Relief Program's oversight panel about their problems in the ongoing foreclosure crisis.
"We're here today in Prince George's County because it's the foreclosure capital of the state," said Elizabeth Warren, chairwoman of the panel and a professor at Harvard Law School.
Prince George's County tallied 12,573 foreclosure filings in 2008—more than a third of the state's total, Rep. Chris Van Hollen, D-Kensington, told the panel, which also heard scheduled remarks from three struggling local homeowners, local experts and Rep. Donna Edwards, D-Fort Washington.
But it was Wilson's remarks, which came during the open public forum at the end of the hearing, that best captured the next phase of the mortgage industry collapse.
She explained to the panel that the best solution to her situation would be refinancing—an option she doesn't have.
"I've asked the bank to refinance my loan, and they will not refinance my loan because I'm current on my payments," she said. "So they won't deal with me as a hardship, and they won't deal with me as a regular refinance customer, because I don't have the required equity.
"I spent $22,000 last year in interest payments on my interest-only loan putting money towards an asset that is continuing to decline in value."
Wilson's situation is specifically targeted by provisions of the Obama administration's Homeowner Affordability and Stability Plan. It allows homeowners who have kept up with their mortgage payments, but do not have sufficient equity to qualify for normal refinancing, to reduce their monthly loan payments.
Another measure, which came under consideration in the House Thursday, would help homeowners closer to the brink of foreclosure. Called the Helping Families Save Their Homes Act, it would allow bankruptcy judges to adjust mortgage terms for primary residences.
Under current law, judges may only make changes to mortgages on additional residences, such as second homes.
Van Hollen and Edwards both supported the bill in remarks to the panel.
"The beauty of all this is that it doesn't cost a dime," Edwards said, "but it becomes a mechanism through which homeowners can get real relief."
Van Hollen said the bill might encourage lenders to work more flexibly with homeowners, because they would be reluctant to turn control over to bankruptcy judges.
"If lenders know a homeowner now has the option to go to bankruptcy court, they might focus their minds and pocketbooks on restructuring these loans, which they are currently not doing," Van Hollen said.
Van Hollen said he hopes the House will vote on the bill by next week.
The Congressional oversight panel was created to help direct the distribution of TARP funds, as well as make recommendations on how those funds could be more effectively used. Its members include John Sununu, former U.S. senator; Richard Neiman, superintendent of banks for New York state; and Damon Silvers, associate general counsel of the AFL-CIO.
Capital News Service contributed to this report.