LA PLATA, Md. (Feb. 26, 2009) - The Charles County Sheriff's Office today released the following incident and arrest reports.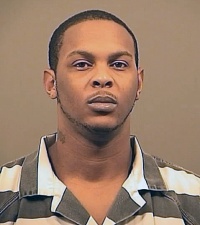 HELP NEEDED LOCATING FUGITIVE: The Charles County Sheriff's Office is seeking the public's assistance in locating Lafayette Norman Dotson, 31, of Waldorf (pictured at left). Dotson currently has open warrants charging him with theft over $500, conspiracy to commit theft, attempted theft, burglary, malicious destruction of property, and two counts of failing to appear in court for traffic related offenses. Dotson is 6'2", 215 lbs, and has tattoos on both arms. Anyone with information about Dotson's whereabouts is asked to call the Charles County Sheriff's Office Warrant Unit at (301) 932-3064 during business hours or (301) 932-2222 after hours. Callers wishing to remain anonymous may call Crime Solvers at 1-866-411-TIPS. A cash reward of up to $1,000 is being offered for the tip that leads to the arrest of Dotson. Sgt. D. Bacon is investigating.
POSSESSION OF DRUGS: On Feb. 25 at 1:18 p.m., a Charles County Sheriff's Office school resource officer assigned to Henry Lackey High School located at 3000 Chicamuxen Road in Indian Head was conducting a premise check when he noticed a blue Cadillac enter the student parking lot. When the occupants did not exit their car, the officer approached to establish if they had legitimate reasons for being on school property. At that time, the driver fled the parking lot and the officer followed. A traffic stop was initiated a short distance away. Upon approaching the car, the officer detected a strong odor of marijuana. The passenger, a 17-year-old male, was found to be in possession of marijuana. He was charged with possession of marijuana and released to a guardian. The driver, 17, was charged with tobacco violations. Both subjects are students at Lackey. Officer D. Savoy investigated.
BURGLARY: On Feb. 24 between 7 a.m. and 5 p.m., an unknown suspect forced entry into a house on Thistle Place in Waldorf. Investigation revealed the suspect gained entry by throwing a rock through the kitchen window. Once inside, the suspect stole jewelry, a flat screen TV, mints, alcohol, and two cell phones. Officers canvassed the neighborhood but no one reported seeing anything unusual. Officer R. Kimble is investigating.
BURGLARY: On Feb. 24 between 7:05 a.m. and 8:25 a.m., officers responded to the 6200 block of Kodiak Bear Court in Waldorf for the report of a possible break-in. Investigation revealed a neighbor observed a teenage male fleeing a residence with a book bag. Officers searched the house with the homeowner and found that someone did enter the house but nothing appeared to have been stolen. Officer J. Riffle is investigating.
SAFETY TIP: Trim back shrubbery that hides doors or windows. Cut back tree limbs that could help a thief climb to second story windows.