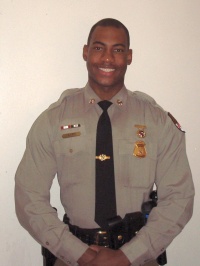 Trooper Anthony C. Ford has been named 'Trooper of the Year' for the La Plata barrack. (Submitted photo)
LA PLATA, Md. (Feb. 25, 2009)—Trooper Anthony C. Ford has been named 'Trooper of the Year' for the Charles County barrack, which is based in La Plata. Barrack officers say Trooper Ford "earned the respect of supervisors and colleagues alike, because of his unselfish devotion to protect and serve." Ford was recognized at an award ceremony at the barrack on Friday, February 20.
Ford is a four year veteran of the Maryland State Police. He spent his first two years as an MSP cadet working in the Commercial Vehicle Enforcement Division.
Ford began his pursuit of a career in law enforcement in 2004 as a high school student, where he participated in the Maryland State Police Explorer program. Ford subsequently attended the College of Southern Maryland where he studied criminal justice.
Ford was selected as a trooper candidate for the MSP 128th Trooper Candidate class in 2006. He graduated on December 22, 2006 and reported to his first field assignment at the La Plata barrack.
In 2008, Trooper Ford quickly emerged as one of the highest producers in traffic enforcement and criminal apprehensions, say officers. Ford investigated 64 vehicular crashes resulting in charges being placed in 51 of those crashes. Ford is also among the top two highest producers of DUI apprehensions, having arrested 72 persons. Ford issued 1,470 citations and 1,203 warnings, resulting from 2,673 vehicle stops. Ford is also credited with 44 criminal apprehensions; 13 of which involved illegal drugs and 14 served warrants.
Barrack officers attribute Ford's "vigorous" enforcement of traffic laws to fewer fatalities in Charles County.
Ford also earned the Trooper of the Month title 8 times in 2008; 5 times for DUI enforcement and 3 times for criminal enforcement.
"Trooper Ford set a personal goal to impress his supervisors and command staff by his aggressive enforcement initiative," said barrack officers in a statement. "This nomination selection clearly reveals that he succeeded."
Officers also credit Trooper Ford with increasing morale among his shift members and the barrack overall. "An essential part of being a leader is how the leader relates to his or her peers and supervisors."
"He is the epitome of a Maryland State Trooper," concluded Ford's superior officers.