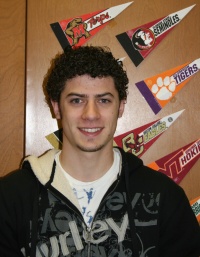 McDonough HS senior Samuel Smoot was selected as a Maryland finalist for the national Prudential Spirit of Community Awards. (Submitted photo)
LA PLATA, Md. (Feb. 24, 2009)—Samuel Smoot, a senior at Maurice J. McDonough High School in Pomfret, was selected as a Maryland finalist for the Prudential Spirit of Community Awards, a nationwide program that honors young people for outstanding acts of volunteerism.
Smoot was nominated for the award for initiating a school-wide club called "Schools for Schools," in which he and other club members helped raise more than $4,000 to help build schools and provide school supplies in northern Uganda that have been affected by civil war.
Smoot, along with other club members, helped host a school bonfire, a spaghetti dinner, a silent auction, band concerts and other events to help raise funds for the cause. On behalf of the President's Council on Service and Civic Participation, Smoot also received a President's Volunteer Service Award for contributing a large amount of volunteer hours.
Smoot, who is planning to attend Clemson University in the fall, was one of six Maryland finalists selected for the state award. The awards program is conducted by Prudential Financial in partnership with the National Association of Secondary School Principals (NASSP).