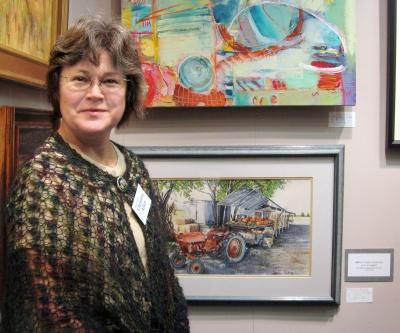 Regional artist Christina Allen has created an original watercolor piece titled
Trossbach Farm Stand (bottom)
, and will donate the proceeds from the sale of the piece to support the Southern Maryland Trails project. (Submitted photo)
HUGHESVILLE, Md. (Feb. 23, 2009)—In a first-of-its-kind fundraiser for the
Southern Maryland Trails: Earth, Art, Imagination
project, regional artist Christina Allen has created an original watercolor piece titled
Trossbach Farm Stand
, and will donate the proceeds from the sale of the piece to support the Trails.
The professionally framed painting portrays a scene very evocative of the region—a roadside produce stand in southern St. Mary's County, including a farm tractor and a trailer laden with the day's harvest of pumpkins, all captured in vibrant colors and delicate detail. Trossbach is an old family name in St. Mary's County.
"The Southern Maryland Trails is such a great way for people in the community to connect with artists directly," said Allen, whose Corn Crib Art Studio and homestead farm in Park Hall are both sites along the main St. Mary's County Trail, dubbed the Barnwood and Beach Glass Loop.
"I'm a believer in buying local whenever possible, and I wanted to do my part to help support the Trails program," Allen added. "Right now, we need this kind of support for artists and local farms more than ever before."
A close-up view of Allen's original work,
Trossback Farm Stand
.
The artwork made its debut at the North End Gallery's February show, "Maryland, My Maryland," and can be viewed or purchased at the gallery until April 30. The North End Gallery, located on Fenwick Street in Leonardtown, is also a Trails partner site, and a distribution point for Trails guidebooks.
The Trails program is sponsored by the Southern Maryland Agricultural Development Commission (SMADC), and showcases things home grown, homemade and uniquely Southern Maryland. The Trails guidebook and Web site,
www.somdtrails.com
, feature four driving Trails throughout the five-county region that encompass a variety of sites, including farms, art studios and galleries, eateries, wineries, lodgings and natural areas. Free Trails guidebooks are available at most partner sites and other key spots throughout the five counties.
"The Commission has served as a kind of incubator to get this unique program up and running," said Dr. Christine L. Bergmark, executive director of SMADC. "We believe it has become an important tool for healthy economic development in the region. But our goal is to transition the Trails to a model that is self-sustaining, supported by members, special sponsors and the community."
"Christina's donation of this beautiful piece is a very encouraging step in that direction," Bergmark added. "Some lucky person will have a chance to own a beautiful original watercolor—depicting a true icon of Southern Maryland— and they will be supporting the Trails with their purchase. This could be a viable way to keep the Trails program alive in the future."
To find out more about this fundraiser, or for more information on the Southern Maryland Agricultural Development Commission, including how to participate in its programs, call 301-274-1922, e-mail info (at) somarylandsogood.com, or visit
www.somarylandsogood.com
.