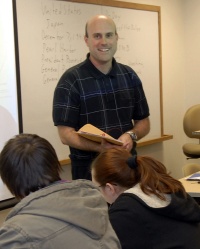 College of Southern Maryland Assistant Professor Chretien Guidry. His students' input to RateMyProfessor.com have placed him at ninth place in a ranking of the country's highest rated junior and community college professors.
LA PLATA, Md. (Feb. 23, 2009)—When most students think about history, the first words that generally pop into their head are tedious and boring, but, according to students at the College of Southern Maryland, history can't only be fun, it might become your favorite class if it is taught by CSM Assistant Professor Chretien Guidry.
In a recent assessment conducted by RateMyProfessor.com, Guidry earned ninth place in a ranking of the country's highest rated junior and community college professors. The ranking is based on on-line evaluations submitted directly by students, good or bad. Unlike end-of-semester class evaluations, these comments are unsolicited, meaning that students have personally chosen to post comments about a given professor, their performance and the quality of the subject matter presented.
According to RateMyProfessor.com, more than 7.5 million student-generated ratings have been posted on more than one million college professors. CSM students posted more than 60 entries discussing Guidry and his history courses.
"I feel very honored and humbled by the ranking," said Guidry. Guidry has been teaching at CSM for more than nine years and appreciates the connection to his students. "The students are the ones who make the magic in my class happen, and keep me motivated."
Some of the student comments about Guidry include:
"Guidry brings history to life; [he] makes you want to learn and be involved. I've never had a better teacher. His passion for teaching and the will for his students to succeed is amazing. When it comes to history Dr. Guidry is the one to take," wrote Hst1014 on 11/17/08.
"Never have I seen someone so in love with teaching. He is one of the most influential and motivating teachers in all my years of education. He gives his students a diverse look at history…This was the first college class that I was actually EXCITED to go to," wrote Hst1032 on 4/1/08.
"This man truly cares about his students! Because he was one, and he isn't afraid to say so. He can identify, which makes someone personable," wrote Hst1014 on 11/6/06.
Guidry says he knows how important it is for students to take an active role in obtaining an education and to research the quality of a school's faculty and their courses. He studied accounting at CSM prior to earning a bachelor's in history from the University of Maryland and a master's in education from Marymount University.
"It's important for students to have as much information about a class as possible and any medium that allows the student to better prepare for a course and the professor that teaches it is one that I support, added Guidry. "I relied on word-of-mouth as a student and would have been grateful to have had a resource that allows students to make comments about the professors teaching methodology. Do they give lots of exams, how do they lecture, what is their grading system, are they bias or objective about the material? I believe these are legitimate questions to ask."
Guidry says he hasn't forgotten his journey from former student to professor at CSM.
"In 1991, I was fixing to graduate from McDonough High School. I was in a vocational tech course and the college provided us with the use of their computers. I remember wondering how I was going to get my degree, a job, everything like that. When I would come to campus, here's this wooded area and I could suddenly breathe a little bit. There's a relaxing atmosphere here that hasn't changed. When I ended up working here, I remember just feeling the importance of being able to work with people and affect positive change in their lives. Now, knowing that my class and approach to history has made a difference to my students only fuels my determination to strive to make history even more exciting, knowledgeable and fun for those who take it."