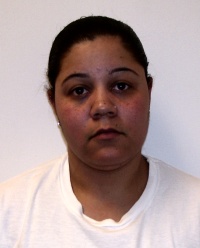 Chantel Denise Cook, 32, of Lusby was arrested and charged Saturday morning with 8 counts of false statement of a destructive device in connection with 8 bomb threats made to the California Wal-Mart over the past 2 weeks. (Arrest photo)
LEONARDTOWN, Md. (Feb. 21, 2009)—A Lusby woman was arrested Saturday morning in connection with a series of 8 bomb threats against the California Wal-Mart retail store. Chantel Denise Cook, a.k.a. Chantel Katika Walker, 32, was charged with 8 counts of false statement of a destructive device. Each count carries a maximum penalty of ten years in prison and a ten thousand dollar fine. Cook is a Wal-Mart employee, according to police.
Detectives were gathering evidence and preparing to execute a search warrant on a Lusby residence when the final bomb threat was placed Saturday morning, according to a police statement. A short time after receiving the 8th call, detectives, with the assistance of Maryland State Police helicopter Trooper 7 and St. Mary's and Calvert County sheriff's emergency services teams, executed the search warrant and apprehended Ms. Cook in Lusby.
Cook was incarcerated in the St. Mary's County Detention Center.
The investigation was conducted by the St. Mary's County Bureau of Criminal Investigations—a team of detectives from the sheriff's office and the Maryland State Police, Leonardtown barrack.