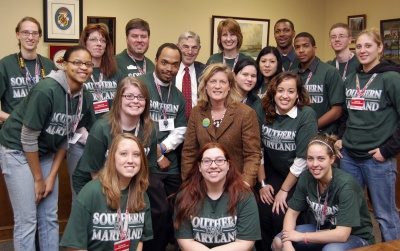 Delegates Murray D. Levy (D-Charles) and Sue Kullen (D-Calvert) met with College of Southern Maryland students attending Student Advocacy Day Feb. 11 in Annapolis. From left, front row, Lauren DeHanus, Jacqui Houchins, Brooke Martin; second row, Kristi Tewell, Kullen, Camila Figuerao; third row, Chay Hebron, Cliffton Thomas, Megan Perillo, Maritza Casarrubias, Jamie Adams, Chelsey Dusang; back row, Diane Payne, Jennifer Haines, CSM Athletics Coordinator Tim Murphy, Levy, CSM Director of Student Life and Athletics Michelle Ruble, Richy Washington and Shane Douglas. (Submitted photo)
LA PLATA, Md. (Feb. 19, 2009)—As Maryland lawmakers grapple with tough economic times, more than three dozen students from the College of Southern Maryland advocated for community colleges directly with their legislators during the annual Student Advocacy Day, Feb. 11, in Annapolis. The day produced a record turnout of community college students from across the state as more than 300 students talked with legislators on the status of state funding.
CSM's contingency of 38 students representing campuses in Calvert, Charles and St. Mary's counties met with members of the Southern Maryland delegation to personalize the impact of community colleges, and to ask for their support to increase funding to community colleges.
Suzanne Davis of Lexington Park attends classes at CSM's Leonardtown Campus and is a member of CSM's chapter of the National Society of Leadership and Success, Sigma Alpha Pi. She wanted to participate in showing support for the college that helped her regain her confidence and sense of purpose after several desperate years.
"At 37 I had a heart attack. I worked menial jobs but couldn't pay the bills. I had no job, no car and I filed for bankruptcy," she told State Sen. and Senate Finance Committee Chair Thomas "Mac" Middleton of Charles County.
The Maryland Department of Rehabilitative Services (DORS) pointed Davis to CSM where, she said, she met now Director of Student Services Regina Bowman-Goldring who helped her get started. Davis enrolled in 2006, made the dean's list her first semester and will graduate this June. Davis has applied to St. Mary's College of Maryland among other four-year schools.
"Without the generosity and support of CSM I could not have regained my confidence," Davis told Middleton.
During the morning kick-off to Student Advocacy Day Middleton told students from around the state "community colleges were slighted this year," but that the governor did the best he could in these tough economic times. It was a message that was repeated throughout the day.
Lt. Governor Anthony Brown told students, faculty and community college presidents that it was "critical for the Federal Stimulus Package to pass, to get dollars to states," adding that Governor Martin O'Malley wants to restore community college funding.
Clay Whitlow, executive director of the Maryland Association of Community Colleges, which organized the event, told students that their record turnout would make a powerful impression on delegates.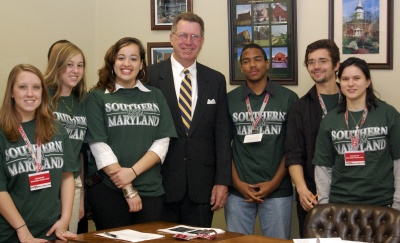 Sen. Thomas "Mac" Middleton (D-Charles) with College of Southern Maryland students attending Student Advocacy Day Feb. 11 in Annapolis. From left Lauren DeHanus, Lindsey Koranda, Camila Figuerao, Middleton, Jamie Adams, Nathan Hurry and Megan Perillo. (Submitted photo)
While awaiting arrival of legislators representing Southern Maryland to the House Office Building, CSM President Dr. Brad Gottfried gave the students some background on the funding formula for community colleges and the legislative process. Historically, explained Gottfried, the formula consisted of three equal parts with one-third of community college funding coming from the state, one-third from the counties and one-third from student tuition. Counties are funding at just under a third, but because of budget cuts, the portion received from states now represents about 21 percent with the portion from student tuition at 45 percent.
He added that in the original FY09 budget presented, community colleges received an 8 percent increase, "that was reduced to 4 percent in October (a $440,000 reduction) and just prior to the holidays we got word that the remainder of the increase would be removed, so flat funding despite record enrollments. The Governor subsequently decided not to make the second cut, hoping that the Federal Stimulus money could be used," Gottfried said.
As the legislators were able between committee meetings, CSM students had an opportunity to meet individually with elected officials from their districts, including Sen. Middleton and Delegates Sally Y. Jameson, Murray D. Levy, Peter F. Murphy, John F. Wood Jr., John L. Bohanan Jr., Anthony J. O'Donnell and Sue Kullen.
Jennifer Haines, of Welcome, heard of the event through CSM's leadership group and wanted to participate. Her husband retired from the military after 24 years, and she is now a sophomore at CSM working on an associate degree in accounting, Haines said that the information she learned throughout the day from Gottfried, her local legislators and student speakers made an impression on her.
"I want to thank the elected officials who took the time to meet with students rather than brush us off," Haines said, adding, "I appreciated the time they took to inform us on how things work and places we can go if we need help paying for college."