1970s Graduates Will Play with Today's Music Students; Local Performers Include Music Director For Emmy-Winner Prince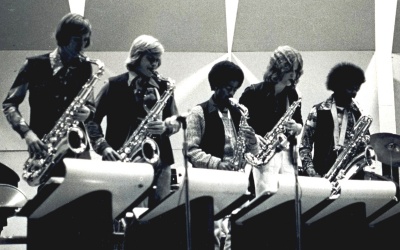 The 1977 St. Mary's College of Maryland Jazz Ensemble included saxophone players (from left) Rick Humphreys, a Calvert County High School graduate; Doug Riley; Johnny Long, a Great Mills High School graduate; Al Friedrich; and Scott Taylor, most of whom will return to St. Mary's City on Feb. 28 for a "Salute to Jazz at the College" reunion concert. (Photo courtesy Bob Levy)
ST. MARY'S CITY, Md. (Feb. 17, 2009)—Musicians decades apart in age, but St. Mary's College of Maryland musicians all, will celebrate America's gift to the world of music in a "Salute to Jazz at the College" reunion concert at the college on Saturday, Feb. 28. The concert is at 7:30 p.m. in the Auerbach Auditorium of St. Mary's Hall. The jazz retrospective will feature performances by the St. Mary's College Jazz Ensemble and the Alumni Jazz Ensemble, whose members were students at the college in the 1970s. About 40 former St. Mary's College music students are coming from around the country to play together again on campus. Many local alumni, who have enjoyed successful careers in music, will be part of the reunited ensemble. The concert is free and open to the public.
Bob Levy, who helped establish the music major at the college and was on the music faculty from 1971 to 1979, has invited his former band students to reunite to perform for this concert. According to Levy, he was hired by the college to build a music program, which began with the creation of the jazz ensemble. Levy was director of bands and a trumpet professor at Lawrence University in Wisconsin for 25 years before retiring in 2005. Music faculty member and jazz band leader Don Stapleson will direct current jazz students in several selections while Levy will direct the 1970s Alumni Jazz Ensemble. The program will feature big band classics and the music of Duke Ellington, Count Basie, Stan Kenton and Thad Jones. The ensembles will play together as a finale.
"The reunion and performance should serve as a wonderful model for today's music students, and allow them to see and hear firsthand the impact jazz has had on the lives of students who were once their age," said Levy. The last reunion concert Levy organized at the college was in 1996.
Joining the reunion ensemble will be alumnus and trombonist Greg Boyer, music director and arranger for pop-rock star Prince. Also reuniting with former band mates will be trumpet player and Chopticon High School graduate, Terry Alvey, band director at Walt Whitman High School in Bethesda, Maryland. Other St. Mary's county natives and college alumni performing include Great Mills High School graduates Johnny Long on saxophone, Jim Gardner and Jon Corbin on trombone, and Bob Lococo on trumpet; Calvert County High School graduates Steve Cory and Joel Ralon on trombone; and Thomas Stone High School, Waldorf, graduates Brian Sturman on trumpet, Jim Tallant on drums and Steve Saavedra on guitar. Former Jazz Ensemble director, Rick Humphreys, a Calvert County High School graduate and college alumnus, will be a featured soloist on the saxophone.
The St. Mary's College Jazz Ensemble gives concerts several times that feature jazz classics as well as new pieces by young artists. Band leader Stapleson is known locally and in the Washington metropolitan area. A saxophonist and flutist, he performs with his own group, the Don Stapleson Quartet, and with the classical-jazz crossover group, Allegro con Trio. He has performed with Ray Charles, Dexter Gordon, Nancy Wilson, the Ink Spots and Martha Reeves. He appeared on MTV with the late Danny Gatton, a Washington native and guitar virtuoso. A St. Mary's College graduate, Stapleson also holds a master's degree in music from the University of Maryland.
Alumni musicians have played professionally with music greats Ray Charles, Wilson Pickett, George Clinton, Maceo Parker, Parliament and the Monumental Brass. Others, who may not have played their instruments in some time, "have dusted off their horns and have been practicing for months," said Levy. While in their teen years many of the returning musicians attended the award-winning local Tidewater Music Festival before enrolling at the college. The 1970s jazz ensemble was featured twice at the Glassboro, New Jersey, and Wichita, Kansas, Jazz festivals. It performed for the national conferences of the College Band Directors National Association at the University of Maryland and for the National Association for Jazz Educators in Daytona Beach, Florida. At these events, several St. Mary's College of Maryland ensemble members received individual honors as well as "outstanding soloist" acknowledgements.