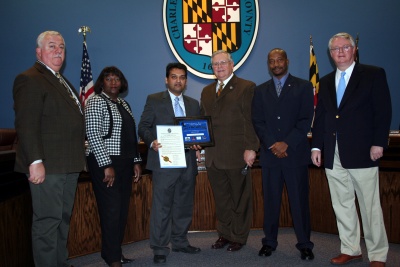 The Charles County Board of Commissioners present February's "Soar Like an Eagle Entrepreneur of the Month" plaque and proclamation to local businessman, Sonny Patel, President and CEO of Crossroads Hospitality. (Photo: George Clarkson)
LA PLATA, Md. (Feb. 16, 2009)—Sonny Patel, President and CEO of Waldorf-based Crossroads Hospitality, is the latest local businessman to be honored as a Charles County "Entrepreneur of The Month." Patel was selected for the honor by the County's economic development and tourism department for his contributions to the local economy and hospitality industry.
The county commissioners presented Patel with a plaque and proclamation during the Commissioners' weekly meeting at the government building in La Plata.
Patel's business owns and operates hotels in Maryland, Delaware, Pennsylvania, and New Jersey, including four establishments in Charles County. The local properties include the Comfort Suites, La Quinta Inn, The Country Inn & Suites in Waldorf, and The Sleep Inn & Suites in La Plata.
Patel founded the company with a commitment to excellence—to his customers and to his employees. He learned the business as a hands-on owner/general manager of his first hotel, the Comfort Suites in Waldorf, and has built the company into its current portfolio of 19 properties. He now mentors the next generation of hoteliers and provides employment, benefits and training to young professionals in the hospitality field.
"I have known Sonny Patel for many years," said Charles County Commissioner President Wayne Cooper. "He not only contributes to our economy through his company and the jobs it creates, he also gets involved in the community, as he has touched many lives with his generosity."
Patel was named Hotelier of the Year for 2007 by the Maryland Hotel and Lodging Association which honors the General Manager who has demonstrated outstanding contributions of leadership, service and community and/or civic affairs.
Commissioner Gary V. Hodge (District 4) noted that "in addition to providing excellent accommodations for visitors to our County, Mr. Patel's construction of new hotels is a signal that our community is ready for new private sector investment and economic growth. Growth in the local hotel industry is one of the key indicators of success that corporate leaders are looking for."
Charles County's Economic Development & Tourism Director George Robertson also credits Patel for his contributions to the County's tourism industry. "Sonny has been an active voice in the community for building our tourism program. His hotels bring in visitors, and his commitment to quality keeps them coming back."