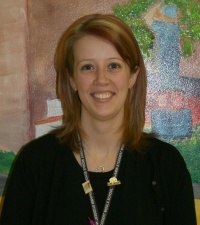 LA PLATA, Md. (Feb. 12, 2009)—Jennifer L. Davis, a science teacher at Benjamin Stoddert Middle School, was recently selected as a Space Foundation Teacher Liaison with the 2009 Flight of Teacher liaison program through the Colorado Springs-based Space Foundation.
Teacher liaisons serve as a link between the Space Foundation, NASA, their school and their school district. Teachers must apply for admittance to the program and do not need to be science or mathematics teachers.
Stoddert Principal Sue Delacruz is thrilled that Davis was chosen to participate in the program. "She is a phenomenal teacher whose passion for science, engineering, space and technology is contagious. Through her carefully constructed lessons and hands on learning activities, Ms. Davis has demonstrated the ability to ignite that same passion her students. I am anxious to see what she will bring back to Benjamin Stoddert," Delacruz said.
Davis joins five other Charles County Public Schools teachers for the 2009 program. They are Charles Newcomb, of Westlake High School; Sandra Hamke of Henry E. Lackey High School; Christopher Rooney of Thomas Stone High School; Aparna Joshi of Benjamin Stoddert Middle School; and Sue Gray, content specialist in science for Charles County Public Schools.
Teachers from across the country are encouraged to apply for participation in the program, which is in its sixth year. The program seeks to actively promote space and science education in the classroom and the community. The liaisons are selected by a panel consisting of industry experts, former teacher liaisons, military members and Space Foundation representatives.
To further develop the STEM programs in the school system, CCPS developed a partnership with the Space Foundation, a non-profit organization that supports space activities, space professionals and education.