By Vic Curtis, Vice Chair, Board of Directors, So. Md. Red Cross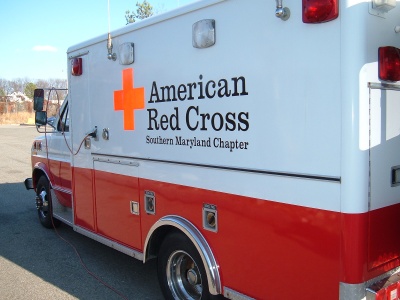 The So. Md. Red Cross Hambulance is a donated ambulance that has been retrofitted to provide emergency radio communications. (Submitted photo)
Most of us expect that each time we pick up a phone we will hear that familiar dial tone. But, what would happen if the majority of the people in one area tried to make calls at the same time? Perhaps silence…
That is often what happens when there is a disaster that affects many people. The crisis on 9/11 was a good example of how cell phone and land line phones can be overloaded with a surge of calls. All of us would want to find out if our loved ones are safe and out of harm's way, but that could take away the link we have to our volunteers in the disaster area.
The solution the
Southern Maryland Chapter of the American Red Cross
has developed to counter that scenario is to use radio communications. A few years ago our chapter partnered with a local amateur radio club and began a project to have an independent communications network of operators and radio systems to meet just about any requirement we could imagine that would impact our chapter's operating areas.
The Southern Maryland Chapter covers three counties and over 1,000 square miles of land. We are bordered by two major rivers and the Chesapeake Bay. So, how do we cover such a large area? Radios and lots of them.
We first turned to our friends in the
Southern Maryland Amateur Radio Club
. They provided us with radios and the personnel to run them. Some of our volunteers were already Hams—a slang term used for amateur shortwave radio operators. The hams did a great job of manning the shelters and helping out at different events; the more we worked with them the more we realized how much we all had in common. Public service is a big part of what the hams do.
As time went along many of the radio club members joined the Red Cross as volunteers and things really got going. An old ambulance was acquired by the chapter and it was offered to the radio operators as a mobile communications van that could be sent out to a disaster as a command post and communications link.
That is all the encouragement they needed to take charge and move out! The Charles County government was changing over to a different radio band and their old radios were going to be discarded. Timing is everything! It just so happened that these radios were absolutely perfect for the newly named Hambulance. Yes, it is corny, but the name stuck. The radios were in very good shape and the radio club bought the software to re-program the radios to make them usable on the "Ham" frequencies. The Sheriff's department asked that we program in three of their mutual aid frequencies so that we could communicate with them if they needed us. Since radios only work if you have someone to talk to, Mike Zabco, the CEO of the chapter, offered the radio operators a room in the La Plata office as a communications room.
Now there was a mobile unit and a base station to talk to. More and more projects were undertaken by the Hams/Red Cross volunteers as even more radios and vehicles were made available to them.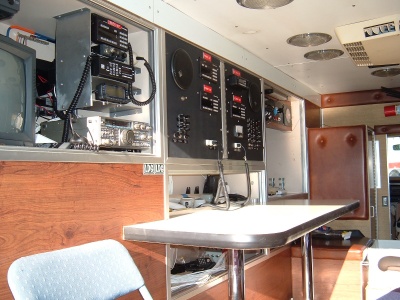 The So. Md. Red Cross Hambulance has been refitted inside, with the help of the So. Md. Amateur Radio Club, to provide local area, statewide, and world-wide communications via radio. (Submitted photo)
Through countless hours of hard work and donations, the radio group has given the chapter a three tier approach to making sure that we can communicate with any of our volunteers and many other public service organizations. The tiers include local area, statewide, and worldwide communications.
The first tier is local area communications. We use hand held radios to talk to others in proximities of a few feet up to several miles. This is what we would use to communicate around a shelter or on the ground at a disaster. These radios use Ham, Family Radio Service (FRS), and some commercial frequencies.
The second tier is the statewide area. This is where the real fun starts. The Hambulance is one of several vehicles statewide that have mobile radios in them. There are five positions in the vehicle that can access over 13 high powered radios—high power meaning 50 to 110 watts. There is one operating station that can use High Frequency or short wave to communicate to just about any place on earth depending on the time of day and atmospheric conditions. The Hambulance has over 30 hand held radios that can be deployed to provide the local area communications I first described. It can send digital messages not too much different from what most of us know as text messages on our cell phone.
There are also CB radios on board the Hambulance. When the folks at Wal-mart donate a tractor trailer full of water, it is beneficial to be able to talk to the truck driver to give him directions on where to park. There are also radios that can be re-programmed to work with just about any other agency that uses the frequencies our radios cover. The Hambulance also has generators to make its own power. It has additional AC units to keep us cool in the heat of summer and a really great heating system to keep us warm in the winter.
There are many other vehicles that have both Ham and Red Cross radios in them. Some are Red Cross and even more are privately owned. Using a Red Cross radio allows any volunteer to use the Red Cross frequencies to talk with other mobile units and base stations, since you need an FCC license to use a Ham Radio.
There are several radio operators that have installed radios in their own homes and erected antennas to provide us with a fairly extensive network of base stations. They monitor the mobile stations and at times can relay messages from a shelter that may be in a less than ideal place for a radio to work. We have been very fortunate to have partnerships with local leaders in both business and the Ham communities. As a result of one of these partnerships, we have a network of radio repeaters that allow us to use hand held radios and communicate from Upper Marlboro to almost Point Lookout using the Ham Radio frequencies.
During one hurricane event we had over 20 volunteers and radio operators helping us with shelters and Emergency Response Vehicles (ERV) in the field. We never lost contact with any of them!
We have developed what we call a Go-Kit. These are suitcase like radio stations. A person can pick up a kit, go to a shelter or any other location we need to operate from, and set up a complete communications station. There are radios, both fixed and hand held, power supply, antennas and cables needed to get on the air. I have seen these set up on a card table with a trash can as an antenna support and a car battery to run it.
The last Tier is the World Wide Area. All of our base stations are capable of using High Frequency radio to communicate anywhere in the world. They all have the Red Cross and Ham radios. This is a vital link in case of a major disaster when you need help from outside of your local area. Imagine being in a situation like Hurricane Katrina and the guy who can help you is over 300 miles away.
This is an overview of what the local Red Cross chapter is doing to be better prepared to communicate when disaster strikes. Through the dedication of our volunteers and partnerships with many other organizations, our goal is to provide reliable and effective communications when and where we need it.