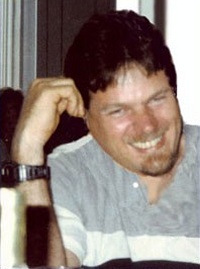 Police discovered human remains in the woods in Cedar Cove while searching for this man, Mark Tippett, who was reported missing in Sept. 2006. (Photo courtesy of Tippett family)
LEXINGTON PARK, Md. (Feb. 10, 2009)—Police today discovered human remains in a wooded area near the Cedar Cove area of Lexington Park. The discovery was made by a team of 67 searchers. The search was part of the continuing investigation into the disappearance of Mark A. Tippett, who was reported as a missing person on September 3, 2006.
Tippett was reported missing from the Cedar Cove area. Police then described Tippett as a white male, 44 years of age, approximately 6 feet tall, and weighing 200 lbs. He had a Gargoyle tattoo on his upper left arm. He was last seen wearing a black "Johnny Cash" t-shirt and blue jeans.
The search was organized by the the St. Mary's County Bureau of Criminal Investigation with the assistance of the Maryland State Police Special Operations Division, Search and Rescue Management Unit. People from the following groups assisted in the search: St. Mary's County Sheriff's Office; Maryland State Police; Southern Maryland Intelligence Center; Department of Natural Resources Police; Southern Maryland Information Center; St. Mary's County States Attorney's Office; Maryland Department of Corrections; Mid-Atlantic Search & Rescue Dogs; Southern Maryland Search & Rescue; and the 7th District Optimist Club.