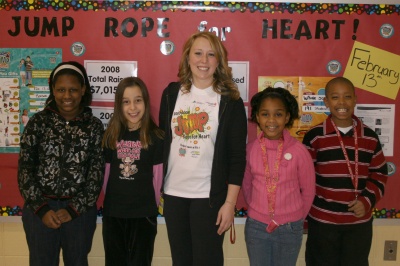 Jillian Bates is pictured in the center with four of her top donating students: fifth grader Shray Spriggs, left, fourth grader Kasey Mentzer, second from left, third grader Janae Outlaw, second from right, and fifth grader Jordan Britton, far right. (Submitted photo)
LA PLATA, Md. (Feb. 5, 2009)—Jillian Bates, a physical education teacher at J.P. Ryon Elementary School in Waldorf, was recently awarded a $2,500 grant from the American Alliance for Health, Physical Education, Recreation and Dance (AAHPERD) Jump Rope for Heart/Hoops for Heart Grant Program. More than 120 teachers nationwide applied for the grant and 15 recipients were chosen.
Bates was selected as a grant recipient for coordinating the Jump Rope for Heart event at Ryon in April 2008. She encouraged 147 students to participate in the event by jumping rope to raise money and awareness for the American Heart Association. Bates' coordinated the activity into student lessons about the cardiovascular system and how it works. In total, her students raised more than $7,000.
Bates plans to use $1,300 of the grant to renew her AAHPERD membership, attend the national conference later this school year and pay for travel expenses. The other portion of the grant funds will be awarded in the form of a $1,200 gift card from U.S. Games, a physical education equipment company. Bates will use the gift card to purchase exercise balls, strapless heart rate monitors and exercise cards to use with her students. She will also coordinate the program at Ryon again this school year.