By LEONARD SPARKS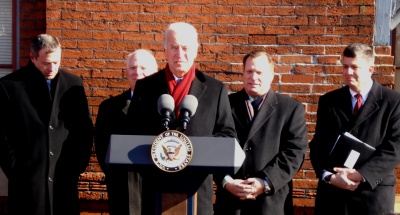 Vice President Joe Biden traveled to Laurel on Thursday to urge passage of the economic stimulus legislation currently being debated in the Senate. Behind him, from left, are Maryland Gov. Martin O'Malley, Maryland Democratic Sen. Ben Cardin, an unidentified man and Maryland Transportation Secretary John Porcari. (Photo: Leonard Sparks, CNS)
LAUREL (Feb. 5, 2009) - Vice President Joe Biden and state officials used a 125-year-old train station in Laurel to highlight the kind of boost that states could receive from the economic stimulus bill that President Obama is pushing Congress to pass by next week.
Biden, Maryland Sen. Ben Cardin and Gov. Martin O'Malley stood on the Laurel MARC station's aging wooden platform to tout the benefits of an estimated $100 billion in federal aid for bridge, highway, mass transit and port projects.
With about 2.6 million jobs lost nationally last year and layoffs mounting, the vice president said there is an urgency in passing the funding to pay for projects like the $2.9 million upgrade needed at the Laurel station.
"We cannot wait another two weeks, three weeks, four weeks," he said. "We cannot wait."
The House passed a version of the legislation on Jan. 28. Costing $825 billion, it contains $275 billion in tax breaks and $550 billion in spending in such areas as health care, unemployment insurance, renewable energy research and transportation and clean water projects.
The Senate is nearing a vote on its version, which so far costs about $900 billion.
President Obama's push to have lawmakers pass the bill before Congress breaks for President's Day on Feb. 13 is meeting with opposition from Republicans and some Democrats seeking to lower the cost and include more tax breaks.
But some lawmakers "still haven't gotten the message," Biden said.
"We can't go back to the failed approaches of tax breaks alone as the answer to our economic problems," Biden said. "The nation's economy is hurting. It needs action now."
Cardin described the legislation as "targeted" and "timely."
"It is targeted ... to the types of investments that America needs in order for our economy to be able to compete internationally," he said. "It is timely in that it will create jobs now that are desperately needed for our economy."
The stimulus bill could bring Maryland about 70,000 jobs and about $810 million in funding for transit and water projects, according to some estimates.
Overall, the state has about 500 transit-related projects worth $1.1 billion that are "ready to go," meaning they could break ground quickly, O'Malley said. Those projects could support 20,000 jobs, he said.
"This is about strengthening and growing the ranks of an upwardly mobile class in our country," he said. "It is about our families and it is about our future."
The upgrade at Laurel would include replacing the station's platform with an all-weather composite deck and the platform's wood foundation with one made of steel and concrete.
The plan also includes improving the station's ramps for the disabled, building a new passenger shelter and rehabilitating the station house, which was built in 1884.
With all of the preliminary work done, federal funding will allow the project to get underway quickly, said Maryland Transportation Secretary John D. Porcari.
"Throughout the state, we'll have work underway very quickly," he said. "It may be buying transit buses, repairing transit facilities, resurfacing roads, rebuilding bridges, work at BWI-Thurgood Marshall airport."
For the last few months, Porcari said, MTA officials have been "toiling away" in working with federal transit agencies to ensure that projects meet any statutory requirements and have all the necessary permits.
"Some of it's very visible; some of it's not," he said of those projects. "All of it is critical."
Capital News Service contributed to this report.