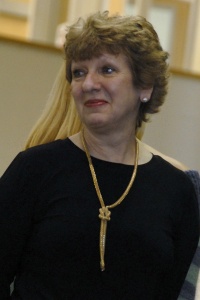 Karen Murphy, 57, of St. Leonard, who took a leap of faith and entered nursing studies at CSM, recently graduated the program. Murphy used to work in patient registration at a local hospital. (Submitted photo)
LA PLATA, Md. (Feb. 1, 2009)—For Karen Murphy, 57, of St. Leonard, the nurse pinning ceremony capped off an exciting journey that began when she first wondered about the possibility of becoming a nurse.
"I worked in patient registration at Calvert Memorial Hospital for many years and I became curious about what happened to the patients after the nurses pulled the privacy curtain closed," Murphy said. She was concerned that she was too old or not physically strong enough to work as a nurse. "Then one day while driving down the road, I said to myself, 'If I don't do it now, I never will.'"
Murphy started as a student at the College of So. Maryland part-time in 2004 with business and accounting classes, and moved to the full-time nursing program in 2006. With help and encouragement from Calvert Memorial's Vice President of Human Resources Carrie Forrest, Murphy persevered. "If not for Carrie, I would not have been able to go to school. She helped me get a grant," said Murphy. The Maryland Health Services Cost Review Commission Grant provides incentive to encourage students to enter nursing.
Murphy found that she wasn't too old to pursue her dream or to participate in the social aspects of the college experience.
"It has been fun to become close with the younger students; we are a very close group," said Murphy, adding, "They have taught me how to text message."
CSM graduated its fifth winter class of nursing students on Jan. 15 at the La Plata campus in a ceremony that preceded the general graduation of the other students.
Health Services Division Chair Sandy Genrich presented an Academic Achievement in Nursing Award to Shaunesta Marker of Lexington Park, who graduated with highest honors, and an Achievement in Nursing award to Patricia Hall of Avenue. The Achievement in Nursing Award is given by CSM faculty to a student who has demonstrated advanced clinical competence, service and dedication to their community, leadership within and outside of the classroom, and academic excellence.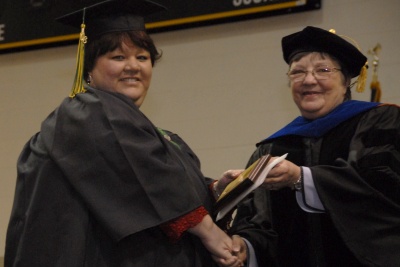 Patricia Hall of Avenue receives the Achievement in Nursing Award from CSM Health Services Division Chair Sandy Genrich at CSM's 10th Winter Commencement. (Submitted photo)
Asked to reflect on her experiences from nursing class, Hall said that when she and her classmates started, they all wanted to make a positive difference in the world. "Now," she commanded her classmates, "Be that nurse that people will remember 15 years from now!" Hall said she remembers the nurses that made a difference in the life of her son 15 years before.
Students receiving associate's degrees in nursing during the 10th winter commencement from Calvert County included, Shannon Cooper, Kimberly Hill, Tuzette Marshall and Karen Murphy.
Students receiving associate's degrees in nursing from Charles County included Omowumi Adeyanju, Rosamond Bartels, Lakeisha Burks, Betty Buttery, Jennifer Decker, Julie Delcambre, Sara Gray, Jessica Helwig, Kai Jamal, Nancy Jones, Ida Molock Mavis Payne, Lisa Reed, Grover Robinson, Christine Brann, Tamara Selvage, Susan Shlagel, Camille Sison, Mary Smith, Stephen Stowers, II, and Lorraine Williams.
Students receiving associate's degrees in nursing from St. Mary's County included Patricia Hall, Denise Meyer, Molly Mullen, Priscilla Scriber, Starr Turner, Shannon Van Kirk, Amy Wilson, Lourdes Yongco, and Jennifer Daniel.