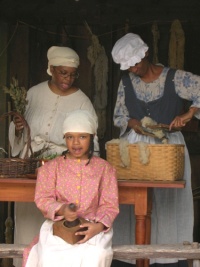 HOLLYWOOD, Md. (Jan. 30, 2009)—Sotterley Plantation, in honor of Black History Month, will present an extemporaneous storytelling experience featuring the talents of Sandi English and her daughter Liana in "Mammy Reminiscence" on Saturday, February 21 from Noon - 4 p.m. Visitors will embark upon a significant journey from Slavery to Freedom.
Having learned the oral tradition from family and friends over the years, Ms. English becomes Mammy and weaves her impromptu stories together with rare African American artifacts. Her 10 year-old daughter plays the role of Ociee, a child slave being raised on a plantation. Relying upon faith, she feels that their combined abilities to tell the stories "is just a gift - God lets us know where to go with the story."
As a young girl, English had the opportunity to listen to many and varied stories, crediting those she learned from her mother and noted historian and teacher, William Diggs. Now an avid African American scholar, she shares the truths of the past with others. Enhancing the authenticity of the experience, she incorporates some pieces from her impressive artifacts collection: a pre-Civil War 'story' quilt, a crutch made of a tree root, authentic slave dresses, a whip, wooden bowls, and more.
Several years ago, when Liana was a baby, English discovered Sotterley Plantation for herself. Heading down the long driveway, she felt an immediate and undeniable connection to the over 300 year old plantation - as though she was being led to understand her shared history. Her visits became increasingly frequent, and after years of peeking through the windows of the original Slave Cabin, she was finally able to realize her dream of going inside: "I can't believe I am inside the Slave Cabin!"
Due to the cold weather, the performance by Sandy and Liana English will take place in the Customs Warehouse on the grounds of Sotterley Plantation. Afterward, the public is invited to trek down the hill to see our original 1830's Slave Cabin. Come summer, this historic site will undergo a major restoration, courtesy of grants of the Maryland Historical Trust, the 1772 Foundation, and Preservation Maryland.
Normal site admission and tour fees apply on the day of the event.