ST. MARY'S CITY, Md. (Jan. 29, 2009)—St. Mary's College of Maryland (SMCM) recently held its annual awards dinner to pay tribute to its employees and their years of service at the college. Retiring and long-time college professors and staff members were honored. The evening's entertainment was provided by the Chamber Singers of St. Mary's College under the direction of Larry Vote, conductor.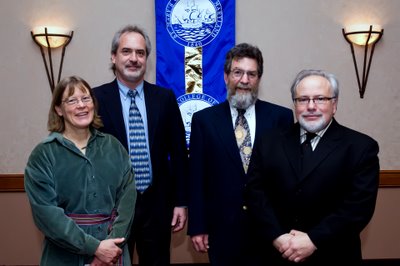 The following were honored for 20 years of employment: Holly Gorton, professor of biology; Richard Wagner, director of the campus store; William Willams, professor of biology; and Jeffrey Silberschlag, professor of music. (
Note: All persons in all photos appear left to right as they appear in the article.
)
The following were honored for 15 years of employment: Sue Johnson, professor of art and art history; Richard Platt, associate professor of psychology; Susan Ross, office associate II for the health center; Thomas Brewer, III, laboratory technician for biology; Nancy Abell, director of events and conferences; Michelle Forinash, assistant director of human resources; and Joanne Goldwater, associate dean of students and director of residence life.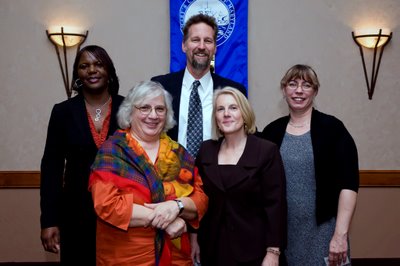 The following were honored for 10 years of employment: Kennie Rodgers, assistant supervisor of housekeeping; Linda Hall, associate professor of history; Benjamin Click, III, professor of English and building faculty coordinator; Nadine Hutton, associate director of financial aid; and Kathryn Lewin, office associate II for Anne Arundel Hall.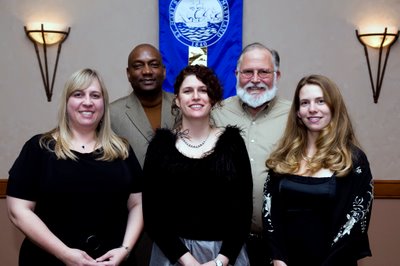 The following were honored for 5 years of employment: Marsha Wilcox, office associate II and help desk; Derek Thornton, assistant vice president for campus operations; Laine Doggett, associate professor for international languages and cultures (French); Gerald Moran, assistant supervisor of trades for the physical plant; and Jennifer Tickle, assistant professor for psychology.