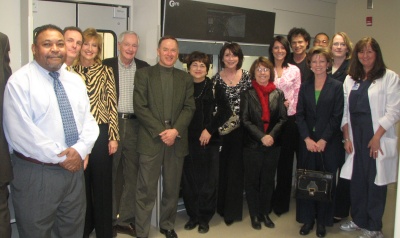 From left: King Rex candidate Danny Jefferson, King Rex 2008 Jay Lilly, Queen Mystique candidate 2008 Deborah Bryant, Mardi Gras committee member Pete Perry, King Rex candidate Russell Watson, Jr., committee member Tina Raymond, Mardi Gras co-chair Carole Lewis, committee member Carol Jackson, Queen Mystique candidate Megan Quinn, King Rex candidate Ken Robinson, Board member Donna Clark, Board member Charles Carrington, Queen Mystique candidate Michelle Voight-Jones, and nursing manager Maureen Jenkins. (Submitted photo)
LA PLATA, Md. (Jan. 29, 2009)—The Civista Health Foundation held its annual Meet and Greet for the past and current King Rex and Queen Mystique candidates of the Foundation's signature fundraiser, the Mardi Gras Ball. The gathering was held on January 22 at the Civista Medical Center to allow the candidates to see first-hand how the contributions they raise are being invested in the community, non-profit hospital.
Renovations and patient enhancements to the Birthing Center were made thanks to funds raised last year. Maureen Jenkins, nursing manager of Women's Services and a Foundation board member, led a tour through the Center, highlighting the newly created spa-inspired bath facility for patients.
"The improvements made to the Birthing Center came from generous donors, and as a result we are able to ensure a safe, comfortable and hi-tech facility for our patients and their families," Jenkins said. "The staff is very proud of the enhancements to the unit and the equipment purchased from the donations are really making a difference."
The group then made its way to the newly renovated and expanded pharmacy, a department which has been selected as the beneficiary of this year's fundraising efforts.
Board member Charles Carrington told the group that their efforts were important and needed to help the area's only community hospital grow and continue services.
"Most people do not realize that the Hospital is a not-for-profit entity in the county where the community has ownership of this asset," said Carrington. "If we don't invest in our only community hospital, then who will? We just live here assuming the hospital is and will always be here to serve us weather we help it or not."
This year marks the 18th anniversary of the Mardi Gras Ball. Collectively this event has raised over $1.5 million through corporate sponsorships and the hard work of many generous members of the community that agree to run for the title of King Rex and Queen Mystique.