Suspects Linked to Other Thefts in Region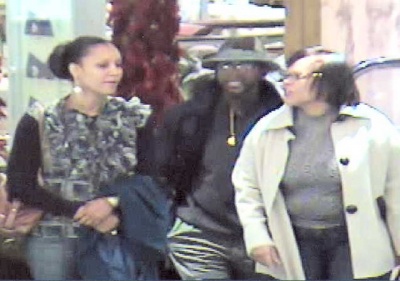 Police suspect these three people are involved in retail theft in Charles and Montgomery counties. (Store surveillance photo)
LA PLATA, Md. (Jan. 29, 2009)—The Charles County Sheriff's Office reached out to the community today looking for leads in a large jewelry theft that occurred at Zales in the St. Charles Town Center Mall on Jan. 18.
Police say a man and a woman entered the store and asked to look at jewelry. The female suspect tried on several rings, distracting the sales clerk while the male suspect laid his coat on top of the display case and removed a tray of rings. The theft was not detected until after the suspects left the business.
Detectives say the suspects may be responsible for a similar theft in Montgomery County; there were three suspects in that case.
The female suspects are described as being heavyset and in their thirties or forties. Police believe the male suspect may be in his forties.
Anyone with information about this case is asked to call Detective McKenzie at (301) 609-6428. Callers wishing to remain anonymous may call Crime Solvers at 1-866-411-TIPS. A cash reward of up to $1,000 is being offered for the tip that leads to the arrest and indictment of the suspects.