Win Peterman, a Calvert County artist who works with glass.
PRINCE FREDERICK, Md. (Jan. 15, 2009)—Win Peterman, a Calvert County artist, will have two of her large works in glass exhibited at the National Capital Art Glass Guild "Celebrations" show at Annmarie Garden in Solomons. The exhibition runs through February 15.
NCAGG is a group of glass artists of all persuasions, primarily from the Metropolitan area.
Peterman created the two works in glass using a slumping glass process. The largest piece, "On a Clear Day," measures 18" wide by 58" high by 1/2" thick. The second piece, "Primary Colors," measures 18" wide by 20" high by 1/2" thick.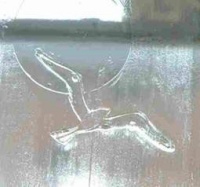 An example of Peterman's glass art
Peterman starts the process by making a mold using plaster of Paris. She then creates the design in plaster for the finished piece. The glass is laid over the mold and placed in a kiln, heated to 1,480 degrees, and the glass slowly slumps into the design. Glass paint or ground up colored glass called glass frit can be added for color. When the glass is removed, the mold is destroyed and a one-of-a-kind work in glass is born.
Art has been a part of Peterman's life since early childhood. In 1997, she became a professional artist with her first medium, painting. She also rekindled an interest in sculpture and added that to her media. In 2003, she took a class in creating art in glass at the Washington Glass School and fell in love with the process of fusing and slumping glass. She continues to explore the different aspects of creating art in glass, sculpture and painting.
Peterman's art is also on display at Chesapeake Gallery and House of Frames in Prince Frederick, Md.; Maris-Elaine Gallery in Cambridge, Md.; Gallery 1683 in Annapolis, Md.; Abbacino Galleria, in Venice, Fla.; and Shore Living in Dunkirk, Md.