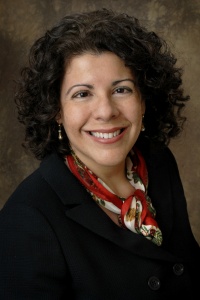 LA PLATA, Md. (Jan. 23, 2009)—The College of Southern Maryland has hired Linda Morales to serve as executive director of diversity and equal opportunity.
Morales' most recent position was as the founding director of the Multicultural Resource Center at State University of New York at Binghamton from 1999 to 2008. Prior to that, she served as its assistant director of campus activities, student multicultural programs advisor and as a part-time instructor. At Potsdam College of the State University of New York, Morales served as senior educational opportunity program academic advisor. Her career in higher education began at Fredonia College of the State University of New York in 1991 when she served as the interim associate director, academic advising and multicultural programs.
Morales has attended the Intercultural Communication Institute in Portland, Ore., where she received her training and qualification to administer and interpret Intercultural Development Inventory (ICDI). Morales is one of 4,000 IDI administrators worldwide. She has also completed a master workshop on Intercultural Conflict Style in June 2006 and is finishing her apprenticeship in mediation in Southern Maryland.
In addition, Morales has presented and conducted numerous diversity educational workshops and trainings on intercultural communications and intercultural conflict at the state, regional and national level for healthcare professionals, higher education employees, human services agencies, K-12 educators and law enforcement departments.
From 2002 to 2004, Morales served on the inaugural national advisory board of National Conference on Race and Ethnicity in American Higher Education.
Morales is a member of several professional organizations including the American College Personnel Association, the American Counseling Association, the National Association of Multicultural Educators and the Society for Intercultural Education, Training and Research. She is now a member of the Washington Regional Task Force Against Campus Prejudice.
Her community involvement has included serving on the Broome County Urban League Board of Directors and the Children's Home of Wyoming Conference, Binghamton, NY.
Morales is mother to Joel, 22, and Andrew, 19, who both attend college in New York.
"I am looking forward to providing a culturally diverse, welcoming and success-driven environment for employees and students. I am very pleased with the high quality of professionalism and friendliness of my new colleagues," Morales said in a statement.