By Danita Boonchaisri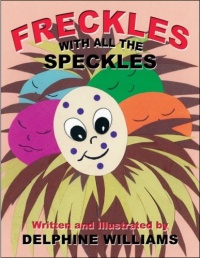 PRINCE FREDERICK, Md. (Jan. 22, 2009)—The idea for the children's book "Freckles with the Speckles" came to local artist, Delphine Siggers-Williams, when she was a child. The short story is one of inspiration where the main character, a speckled egg named "Freckles," takes on adventure with confidence and enthusiasm. "I wanted to write a book that would encourage children to develop a lifelong love of learning. There are some children who need to be inspired more and learn what education can do for them," she said. "The main thing for children is I wanted to make them want to get the information and see what is possible for them. Just like Freckles, I wanted them to see that life is real and they can 'keep on going with zest and zeal.'" she said, quoting from her book.
Freckles is a speckled egg, a somewhat unusual protagonist. But Siggers-Williams recalled a similar egg she admired as a child. "I remember that egg and thought that it was extra special, regardless of how it looked. That's a message that works for children as well. I want children to think they're all the same, regardless of how they look. They, like Freckles, can have the power and energy to do positive things that others aren't doing."
With publication of this new children's book, aimed at toddlers through second graders, Siggers-Williams adds to her already illustrious career as an artist. She designed and created the "Forty Blossoms from the Bouquet" in 2006 which paid tribute to 40 African-American women who were born in or had ties to Calvert County. Siggers-Williams painted the 40 acrylic commemorative portraits which were displayed at the State House in Annapolis in February 2006 in honor of Black History Month.
She is currently working on another tribute exhibit to commemorate Hurricane Katrina and the aftereffects on New Orleans. Of her work, she says, "You have to captivate people to get them to really observe and take something away." The children's book, the latest of her endeavors, has been a learning experience for her as well. "There is so much to know about getting a book published that it can be overwhelming at times," she said. "But as much as I believe that children should be eager to learn, I am eager to learn as well. It has been a terrific experience."
Delphine Siggers-Williams is a graduate of Morgan State University. She is an award-winning artist who shares her skills and love for art with the community. She has been a home hospital teacher, a substitute teacher and an art enrichment special projects tutor for the Calvert County Public Schools. She is a lifelong resident of Southern Maryland and currently resides in Huntingtown, Md.