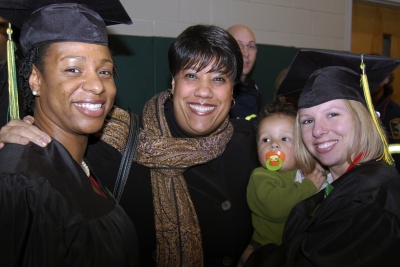 Calvert County students Tuzette Marshall of Lusby, left, and Shannon Cooper and her son Tyler of Owings, right, celebrate graduation with former CSM nursing instructor Donna Minor at CSM's Winter Commencement Jan. 15. "He is my reason for graduating," said Cooper of her son Tyler. (Submitted photo)
LA PLATA, Md. (Jan. 22, 2009)—The College of Southern Maryland (CSM) recognized 344 candidates for degrees and certificates during its 10th Winter Commencement Thursday, Jan. 15, at the La Plata Campus. 129 graduates participated in the ceremony.
The keynote speaker was Rear Admiral Steve Eastburg. RADM Eastburg is Program Executive Officer for Air Antisubmarine Warfare, Assault and Special Mission Programs at the Naval Air Warfare Center Aircraft Division (NAWCAD) located at nearby Naval Air Station Patuxent River. RADM Eastburg has been instrumental in working with CSM, the University of Maryland, and the Southern Maryland Higher Education Center to deliver the University of Maryland's engineering program to Southern Maryland.
Addressing the graduates, RADM Eastburg said the tools students developed at CSM, and will continue to develop throughout their lives, constitute the intangibles of their formal education.
"It's the stuff you've picked up along the way from instructors and the stuff you've gained from the experience of having been here, of working with professional educators on 56 different programs of study, of relating to your classmates and professors, and of learning how to operate outside the cocoon of the brick and mortar schoolhouse," RADM Eastburg said.
CSM awarded 352 associate degrees and 108 certificates. Forty-seven percent of the students receiving awards are from Charles County, 27 percent are from St. Mary's County, 21 percent are from Calvert County, and the remaining 5 percent are from outside of the southern Maryland region.
Of the graduates, 65 percent are female and 35 percent are male. Associate degrees were awarded predominantly in the fields of general studies, business administration and nursing. Certificates were awarded predominately in the areas of general studies: transfer, and advanced and basic accounting. The ages of this winter's graduate and certificate recipients ranged from 17 to 66.
From a first graduation class of four in 1960, the college now has celebrated more than 16,533 graduates.
The following students were recognized as candidates for associate's degrees or certificates at the College of Southern Maryland's 10th winter commencement ceremony, Jan. 15, 2009:
Calvert County
Broomes Island
Shelley A. Lahn
Chesapeake Beach
Steven Joseph Ead Jr.
Amber M. Meador
John Chris Rawlings
Dunkirk
Julianne M. Bodenhorn
Jason Charles Dethloff
Jerry Kerlin Frostbutter
Casey Brooks Gray
Allison Gail Horsmon
Janay Michaela Watkins
Huntingtown
Laura Marie Andriszak
Ryan C. Britt
Sonja Starr Carroll
Kevin Richard Farrell
Ashley Marie Lenz
Carrie L. Nelson
John Anthony Farnese Jr.
Lauren Nicole Fink
William David Giles
Jeremiah M. Maksimovic
Matthew P. Swieringa
Lusby
Shaun Thomas Dull
Darci Jean Eubank
Nancy Rebecca Fitzgerald
Janet Frazier
Amanda S. Hall
Andrew Robert Kaupp
Vicki L. Lovelady
Tuzette Monique Marshall
Kary Parks Pawlowski
Louise G. Rogers
Justin Joseph Scaparro
North Beach
Christi Ann O'Neal
Ashleigh Victoria Repass
Owings
Jessica Alana Aranda
Shannon Marie Cooper
Tiffany Lynn King
Joseph Paul Lemon
Daniel C. Murphy
Mallory Nicole Taylor
Shannon Marie Warner
Port Republic
Danielle Elaine Reumont
Timothy Alan Rohde Jr.
Prince Frederick
Christine Marie Council
James Lee Devault
Austin Adair Logan
Charles N. Mills IV
Katie Ogden
Lawrence William Van Tassel Jr.
Saint Leonard
Kimberly Noele Hill
Karen Susan Murphy
Coralie H. Potts
Valley Lee
Jeffrey Allan Saylor
Charles County
Brandywine
Sheila Denise Garner
Bryans Road
Lakeisha Burks
Cherry Charles
William Charles Hansley
Bryantown
Lisa Dawn Boyde
Lauren Marie Gray
Michael Timothy Lynch Jr.
Charlotte Hall
Allison Brown
Kimberly Lee Fullerton
Ellen Mara Underwood
Annette Wingo
Mary G. Yates
Cobb Island
Jennifer Louise Winstead
Hughesville
Christine M. Brann
Carol Ann Flerlage
Autumn Renee Miller
Indian Head
Michelle DePew Carlson
Sara Nicole Gray
Jessica Latrice Hart
Ronda Lynn Jacobs
Joel Michael Kennedy
Jaclyn Kay Malbrough
Dawn Eleanore McClure
Douglas Lee Stewart Jr.
Lindsey Elaine Tomlinson
La Plata
Betty Marlene Buttery
Michael Tai Conner
Linda S. Gregory
Nancy Marie Jones
William Loving Jr.
Matthew A. Mehlbaum
Frankie David Rowe
Gary W. Showalter Jr.
Dana Renee' Smoot
Stephen Thomas Stowers II
Bernard F. Stratchko
Misty Dawn Weimert
Lauren K. Witthar
Marbury
Travis Boone Finkle
Mechanicsville
Amy Leigh Wilson
Nanjemoy
Jessica Leigh Helwig
Pomfret
Brittany Ashley Pickeral
Port Tobacco
Steven John Blake
Trisha Marie DeGroot
Javier Phillip Gonzalez
Mark Gary Tewell Jr.
Waldorf
Shawniece G. Able
Omowumi Abiona Adeyanju
Shobha Adhikari
Frederick Lamoine Allen
Jamal Allen Armstrong
Jeffrey Allen Baker
Stephanie Lashawn Barber
Kionna N. Barnes
La Tasha R. Barnett
Matthew Lee Beasley
Glorimar Benson
Anthony W. Bliss
Kahmala Merisa Campbell
Randy E. Carlson
Rebecca Rae Churchwell
Amber Anita Conway
Micaela Yumika D'Avilar
Jennifer M. Decker
Jesse S. Figueiredo
Erne' Patrese Gilliam
Tonya M. Grant
Dolores S. Gross
Sara Evelyn Heisler
Kimberly Joann Hunt
Lorena Moore Jackson
Kai H. Jamal
Brett Aaron Jarmon
Alexandros Kolazas
James Lee Ledford
Iris E. Mattox
Kevin F. McDermott
Ida Lynette Molock
Byron Keith Morgan II
Marilin Musser
Trinh P. Nguyen
Gwendolyn Palmer
Jenna Lynn Pashkevich
Mavis Monica Payne
Phillip Absher Peterson Jr.
Stephen Lee Rapp
Lisa Renee' Reed
Grover L. Robinson Jr.
Tina Marie Rye
Maria-Katrina Samson
Brian David Schnitzler
Jerilee Segarra
Soubia Shafiq
Gamal Muntu Sheard
Susan Rose Shlagel
Camille Oller Sison
Mary Katherine Smith
Joseph Lee Smyth
Max Stempora
Ashley Renee Taylor
Lauren Tellez
Samantha Lynn Thurman
Lorraine Nadia Williams
Danielle Marie Willie
John Stewart Wilson
Monique Worthington
Elizabeth B. Yon
Welcome
Marshal Eaton
Daniel Paul Fuese
Jessica Maree Murray
White Plains
Zachariah Keane Reynolds
Tamara Marie Selvage
Jo Beth Worden
St. Mary's County
Avenue
Patricia Lynn Hall
California
Valerie R. Bergin
Lauren Marie Ivancik
Elizabeth Victoria Lamb
Rebecca Rose Lindberg
Alicia Miller
Christina Marie Porter
Callaway
John Michael Heard
Britney Marie Lewis
Tetyana Ivanivna Palm
Chaptico
Starr Lee Turner
Charlotte Hall
Katie Lynne Back
Clements
Lisa Michele Russell
Drayden
Patricia Lynn Gardner
Great Mills
Amanda Nicole Baylor
Anthony Tang Brown
Peter Paul Deeney
Cynthia M. Thompson
Hollywood
Julie M. Goddard
Chasity Ann Hall
Chris John Insley
Jacqueline D. Jackson
Julie M. Knott
Brandon Joseph Norris
Jonnie L. Thompson
Leonardtown
Maria Lourdes Corpus
Donna Michelle French
Grace Willow Jones
John Joseph Loss Jr.
Dana L. Morgan
Erin Alexandra Muchow
Molly Dugan Mullen
Cynthia D. Nelka
Susan L. Riege
Mary Rose Wassink
Lexington Park
Jorvan Wesley Ruiz Axinto
Allyssa Jean Blackburn
Sun L. Courtright
Tracy L. Forehand
Ashlee Ann Hacker
Henry L. Jahn
Tammie Marie Ann LeBlanc
Shaunesta L. Marker
Erin Elizabeth Matheny
Franklin J. McDaniel
Donnita R. Moore
Stenson Raymond Morse
Amanda Lee Ramey
Priscilla Scriber
Schuyler Shireman
Karen Marie Warring
Loveville
Kristin Lakia Veney
Mechanicsville
Kathryn Whitney Alexander
Tracilyn Miller-Brown
Mary Ramona Eaker"You've made many sacrifices to be here this evening because you understand that you are investing in your future. We take great pride in your accomplishments, and I know that the future will be bright for you," said Gottfried.
Brandie Lynn Gorman
April A. Guy
Lauren Jean Hylton
Heather Jeffries
Angela Nicole Lucier
Sean M. Magargle
Denise R. Meyer
Brandie Michelle Monteith
Lynette Jean Parks
Patrick Charles Russell
Jaime Lyn Ryce
Erin Marie Santana
Amanda Jean Shea
Michael David Skrabacz Jr.
Joseph W. Thompson Jr.
Shannon Michelle Van Kirk
Ridge
Joshua Philip Pierce
Saint Inigoes
James E. Arvin
Prince George's County
Accokeek
Angela May Albanese
Francisco Encarnacion Legaspi, II
Justin Young
Aquasco
Raymond Brett Edelen
Brandywine
Michelle M. Menna
Camp Springs
Erica Noble
Fort Washington
Rosemond Bartels
Charlena W. Young
Out-of-region
Silver Spring
Rosalinda Ortiz Pineda
Out-of-state
Alexandria, Va.
Zachary Uno Werneth
King George, Va.
Daniel Wade Phillips
Norfolk, Va.
Christopher L. Williford